Stepcraft D.840 CNC Review

Stepcraft is one of the top companies in the CNC systems industry and has been around for about 8 years now. It's a German company with a relatively long catalogue of CNC machines. One of their flagship models is the Stepcraft D.840 which seems to offer very good quality to price ratio and several commendable features.

It has the largest working area in Stepcraft's D-series product line making it ideal for large projects. It has a rigid frame too and it's fairly easy to assemble.

The other advantage is that it's versatile – it can work with various materials and you can customize it with a number of add-on tools like a 3D printer head and a laser engraver tool. Its major downside is that it can't work with harder materials. The other one is that it can only be controlled from a computer and offers just a single connection option.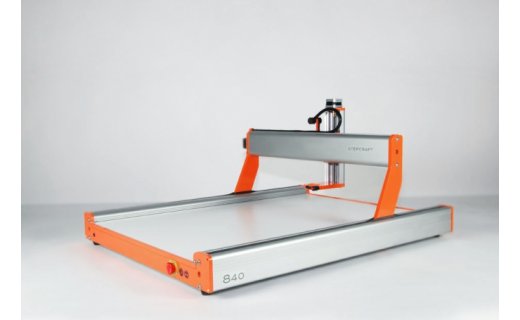 Pros
Can deliver accurate, smooth cuts
Offers a large working area
It can work with various materials
There are lots of add-on tools available
It's easy to use and assemble
It's compact and has a fairly sturdy construction
It's backed by a 2-year warranty
Cons
It's likely to bind when travelling along the Y-axis
The milling speed is a bit slow
You have to upgrade to aluminum base to cut harder materials
It can only be controlled via a computer
Specifications
Spindle: STEPCRAFT MM-1000 (1.4HP, 1000W AC with variable speed control)
Spindle Options: STEPCRAFT HF500, Proxxon IBS/E, Dremel 4000, Kress 800 FME, Bosch colt and Dewalt DW611
Universal Tool Holder Diameter: 1.69 inches (43mm)
Maximum Speed: 3000 mm/min (50mm/sec)
Programmable resolution: 0.005mm (0.00019 inches)
Working Area: 600 x 840 x 140mm
Machine Table: Formica laminate (HPL) – Optional Aluminum T-slot is available
Routing Materials: wood, thermoplastics, polyamide, aluminum, carbon, Plexiglas and all kinds of PVC, PET, ABS, and PP
Linear Guides: STEPCRAFT EN AW-6063 T66 (custom aluminum extrusion with roller guides)
Drive: Nanotec® Stepper motors (3)
Connectivity: USB cable, Parallel-to-USB interface
Compatible Software: UCCNC (included with each machine), WinPC-NC, LinuxCNC and Mach 3/4
Overall Size: 970 x 750 x 510 mm
Weight: 68.34 pounds (31 Kg)
Design
The Stepcraft D.840 has quite an appealing design. There is no wiring clutter – it has integrated control electronics housed inside the machine. The only hanging cables would be the power supply cable and the USB cable, so the whole unit looks quite neat, plus the orange/silver color finishing makes it even more attractive.
It features a true German design and craftsmanship which is demonstrated even in the quality of its overall construction. It sports a fairly sturdy construction with parts made using decent-quality materials.
The unit uses an 8-point ball bearing carriage on each axle with 4 track roller guidance and Nanotec®stepper motors to move the router around. The carriages are sturdy and maintain a play-free movement.
The lead screws are strong and firmly attached to the frame while the spindle nuts are made using bearing bronze which is highly resistant to corrosion. All the other connecting elements are made of aluminum and stainless steel.
The router table is HPL (Formica laminate) which is similar to Formica-countertop material. It's made from layers of plastic that are bonded to particleboard to form a solid countertop surface. It's able to resist wear and tear, although it's not as robust as the aluminum T-slot table which the manufacturer also offers for this model and others in their D, 1 and 2 series.
Generally, the whole unit is strong due to its metallic body which ensures stability during milling operations. It's durable and can withstand regular heavy usage. The Y-axis even features silicone seals to protect it against dirt while the entire surface of the unit has anodizing and powder coating hence it's easy to care for and can stand up to everyday wear and tear.
The overall size of the model is 970 x 750 x 510mm, so it's a relatively compact machine that can fit well on a desktop or workbench. It's, however, pretty heavy (weighing 68.4 pounds) – you'll need assistance to move it around once fully assembled, especially due to its rectangular shape.
The machine is mainly a three-axis CNC system, meaning it's able to perform movement about the X, Y and Z axis simultaneously – it's suited for milling 3D and 2D models. You can make contoured shapes from flat stock, sculptured surfaces, as well as, tapered or draft surfaces.
The compact size, however, might be a problem when you hone your skills and want to experiment with more options. The limitation of the machine is only on the X-axis – you can tile jobs and even run unlimited on the Y-axis as you wish, especially if you're using Vectric CNC software because it has a nice tile function. If you're, however, planning to do 4 x 8 foot material, then the D.840 would not work.
Performance
The machine uses Stepcraft's MM-1000 spindle system with a 1.4HP and it's capable of reaching maximum power of 1000 watts, so it can generate enough milling force to cut through a variety of materials. Cutting precision is also pretty decent, reaching up to 0.005mm, which means the unit can deliver good quality results.
You get smooth cuts mostly when doing the small-format fine carving, especially simple relief carvings. Several users reported getting accurate, smooth cuts when doing simple 2D models and similar projects like names, logos and hashtags.
Moreover, there's no backlash when you're working. It's approximately 0.001 to 0.003 inches but with the Stepcraft software, you can adjust the backlash further down to 0.00 inches.
However, the machine does have a weak spot considering that the router is driven by a single stepper motor that moves the two axis through also a single belt. Due to this, you have to have everything super aligned or else they're likely to bind when travelling along the axis.
To fix this, you may have to get Stepcraft's performance kit which replaces the belt and the single motor with dual motors with encoders hence providing more power and speed, and as well help eliminate issues with Y-axis alignment.
With regards to speed, D.840 is not the fastest CNC machine out there. It offers a maximum travelling speed of 3000mm/min which means it's able to only cut 15 to 16 mm per second with a cut depth of around 0.5mm per pass. Nonetheless, the speed is consistent even if it may take some time for your designs to be ready.
Working Area
Although it's a relatively compact machine, the D.840 is one of Stepcraft's models that provides a large working space. It features a 600 x 840 x 140 mm (23.62 x 33.07 x 5.51 inches) work area which is sufficiently large for woodworking and doing other large milling or craft projects.
The machine equally features an integrated workpiece clamping system for the plate materials (with a thickness of about 15mm) – the system seems to do it's work fine as many mentioned that the workpieces remain fixed – they rarely shake during milling.
Materials
In general, the unit is able to mill most of the soft materials including wood and metals like aluminum. It, however, comes with a flexible tool holder through a 43mm clamping collar which means you can interchange the spindle with other tools and associated adaptors, thereby allowing you to process a wide range of materials.
The optional adapters available from the company include the Dremel and Proxxon spindle systems, which are suitable introductory spindles for the Stepcraft system. They are quite light and ideal for doing simple projects although you can only use them for a short duration since they tend to heat up quickly – you have to often switch them off and allow them to cool.
The other option you have is the STEPCRAFT HF 500, which is a heavier-duty spindle and allows you to easily mill most of the non-ferrous metals such as aluminum, copper or brass. The company also offers a 3D print system that you can add to the machine should you want to do 3D printing or utilize materials like ABS, PLA, PVA, PET, nylon, and more.
You can as well convert the machine to a vinyl cutter or scrapbooking cutter using the Drag Knife attachment. There's also a STEPCRAFT Hot Wire Cutter attachment that lets you cut various kinds of foam materials to make crafts, letters and more.
The other included tool is the Pen Plotter tool that transforms the machine into a digital plotter which allows you to transfer your designs onto different materials such as fabrics (for transferring patterns), paper, poster board, wood, and much more. The last optional attachment is the engraving tool that lets you engrave on soft metals like aluminum, copper and brass.
Generally, there are very few CNC machines on the market that are this versatile and it's one of the reasons that make it stand out, and ideal for those who love to experiment with many different materials or want to extend their creativity.
The major downside though is that both the table and the whole unit are very rigid to handle harder materials like hardwood or hard metals. So, getting the aluminum base will be a must should you want to use soft materials or cut something more than softwood or soft metals.
Usability and Software Compatibility
The Stepcraft D.840 can only be controlled through a computer using associated software. The good thing though is that it's compatible with various CNC control software including WinPC-NC, Mach ¾, LinuxCNC, and UCCNC (which is included with each Stepcraft machine).
You have to first compose the drawing or the design in any standard CAD or graphics program (CorelDraw, Adobe Illustrator, AutoCAD, Solidworks, Inkscape or Google sketch).
You can design 2D or 3D projects in one of these programs and import them into the CNC control software of your choice where you can output the Gcode which will control the Stepcraft machine to allow it to recreate your design.
The CNC control software like the WinPC-NC works best with the Stepcraft D.840 model and it's easy to use as all the functions are well organised and displayed. You can load up your sketch, adjust the different axes, set/control the spindle speed, initiate the actual milling process and perform much more right from the CNC software.
The machine connects to a laptop or desktop computer via only a USB cable. There's no Wi-Fi connectivity. It requires a Windows PC with a 1GHz processor and it's compatible with Windows XP/7/8/10 (32/64/) and Mac OS X 10.3.9 or later (with Windows emulation – Parallels or Bootcamp).
Assembly and Support
The machine comes as a kit which means you have to set it up yourself from scratch. It may be a bit challenging if you've never done DIY installation or if you've never set up a CNC machine before, but it's not that challenging since it requires no special skills like cutting or soldering.
Moreover, the provided assembly instructions are clear and easy to understand. There are also assembly videos that can guide you step by step through the whole process. It can roughly take 4 to 6 hours to set it up.
Everything you need to step the base machine is provided, including the UCCNC machine control software. The unit requires a 110V AC power supply (with the USA plug) or an 85-265V AC power supply (with the Australian plug).
The spindle is equipped with an air cooling system which helps to cool the heat generated when it rotates at high speeds to ensure smooth operations. It's more convenient to maintain compared to spindles with a water cooling system. No special maintenance is needed, so maintenance and use costs are lower.
The customer support from the company is reliable and responsive, plus it has a loyal band of users and a very active community on social media platforms like Facebook where they share a lot of ideas, suggestions and solutions – you can get help in case you face any setbacks or glitch.