BIBO 3D Printer Review
The BIBO 3D printer is also known as the BIBO 2 Touch Laser X. It's a mid-level multifunctional 3D printer that has great dual extrusion capabilities and comes with a variety of advanced features. They include copy printing, dual cooling fans, filament run-out detection, power out recovery mode and a laser engraving technology. All these are useful technology that makes the BIBO 3D very versatile, especially in terms of applications.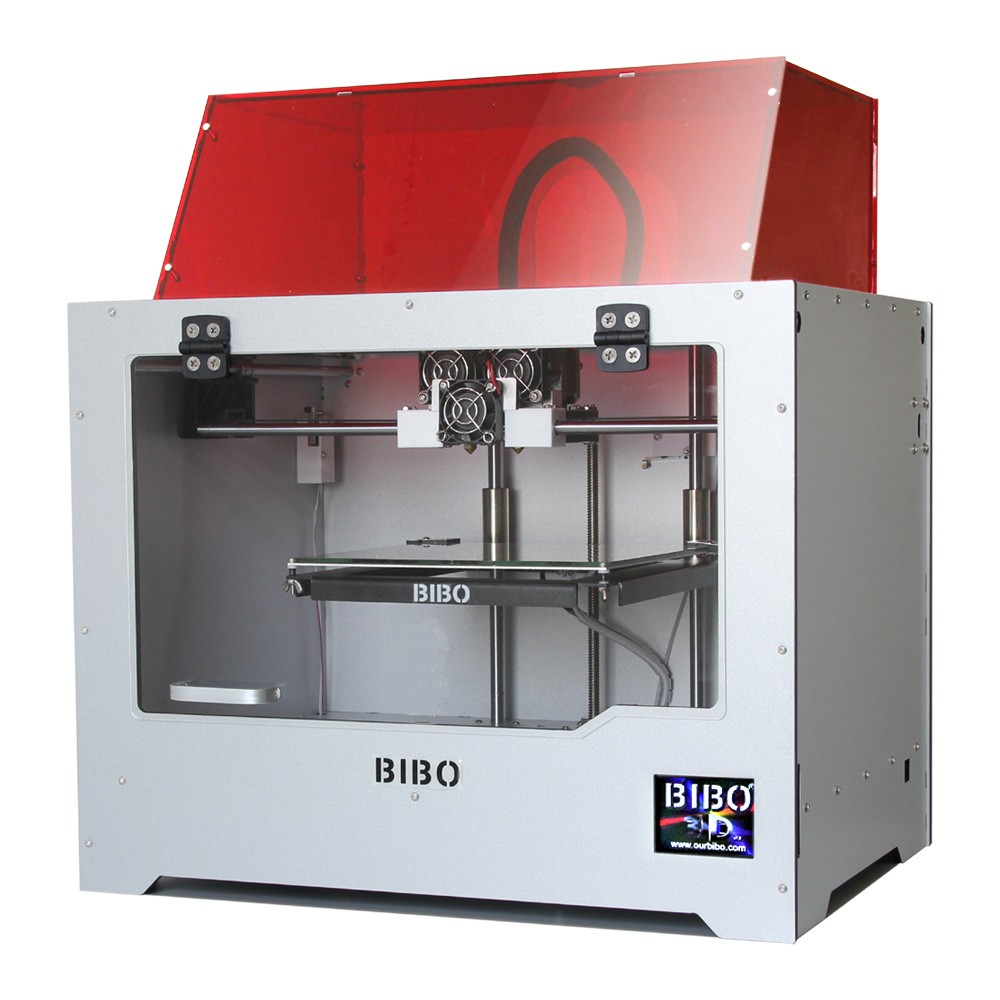 Pros
The dual extruders deliver good quality prints
It can also engrave several different materials
Multicolor and multi-material prints are possible
Works with many different filament materials
The build area is significantly large
Compatible with both standard and open software
Sturdy and durable overall construction
Cons
Levelling the bed is a bit challenging
The prints are sometimes hard to remove
Installation instructions are not clear
The filament detection function occasionally fails to work
Specifications
Extruder Number: Dual extruders
Max Extruder Temperature: 518°F (270°C)
Resolution: 0.05 – 0.3mm
Extruder Nozzle Diameter: 1.75mm and 0.4mm
Printing Speed: N/A
Calibration: Manual levelling
Build Area: 8.4 x 7.3 x 6.3 inches
Filament Diameter: 1.75mm
Supported Filaments: PLA, ABS, HIPS, PETG, TPU, Nylon, PC, Carbon fiber
Connectivity: SD card, USB flash drive, USB Cable, Wi-Fi
Weight: 40.1 pounds
Dimension: 18.4 x 14 x 14.7 inches
Design
The BIBO 3D printer has a metal box design that looks a little ancient compared to most current 3D printers which feature sleek modern designs. It's not the most aesthetically pleasing printer, but it's sturdy and durable.
The frame is a 6mm thick aluminum composite panel. It's a strong build that makes the entire unit rigid and stable. The enclosed structure has an acrylic window that lets you safely monitor the project's progress, so you can use the printer around children.
However, something that users continuously rave about is the heated glass bed of the BIBO 2. It's not self-leveling like those of some high-end 3D printers but many still liked it since it's demountable – you can easily detach it from the printer with the finished print on it, which is a handy feature that makes removing printed objects much easier. It's particularly useful when removing large or complex objects.
The problem is that the bed has a glass build plate. Although glass build plates are still popular, they feel a bit outdated because you have to use fixes such as glue sticks or painter's tape to get the first layer of a print to adhere. The prints then become difficult to remove once you're done.
Other manufactures, like Prusa, utilize more modern solutions to tackle print adherence issues such as using spring steel build plates instead of glass, which slightly seems like moving technologically backwards. It's fine but certainly not ideal for beginners. The included laser feature is nice too and it's able to cut more than 3mm acrylic, however, its interface is equally not suited for beginners.
Moving it around isn't easy. It's heavy due to the thick aluminum frame, weighing about 40.1 pounds. You will need help to move it from one place to another. However, it has a small footprint (measures 18.4 x 14 x 14.7 inches) – it can easily fit onto a desktop.
Printing Quality and Speed
The BIBO uses a dual extruder system featuring two hot ends hooked side by side on one print head. One has a nozzle with a diameter of 0.4mm and the other 1.75mm. They can print a layer thickness of about 0.05mm to 0.3mm, and reach temperatures of up to 270°C.
We were impressed by how to level the extruders are. A common problem with dual-extruder systems is that one extruder nozzle is usually slightly lower than the other. Considering that even a difference of a fraction of a millimeter can lead to one nozzle dragging across a part, that can easily ruin your print or in best case scenario, leave ugly scars on it The BIBO 2 extruders were correctly leveled out of the box. You may not have to touch/adjust them at all.
They seem to perform well. The prints' quality is great – they deliver accurate parts most of the time. Both extruders are stable and precise, resulting in clear and detailed printed objects. They handle difficult or complex designs well with the accuracy of prints varying from the original by around 0.1mm.
The dual extruders make the machine versatile too as you can print simultaneously with two different filament materials or colors. BIBO has also included a copy printing feature that enables you to print two objects simultaneously. It reduces the printing time by half, which is convenient when making multiple prints of the same model.
Another great feature is the direct-drive extruder technology. It prevents the filament from warping or bending in the transmission tube. It's a useful feature that helps ensure consistency when printing multiples of the same model.
The unit was able to handle single extrusion prints well, but few complained that the second extruder tends to come in the way of the printing process when not in use.
Speed is not much of an issue. It prints most of the objects at a relatively fast speed, especially when printing PLA – speed goes up to 80 or 90mm/s. The speed, however, varies depending on the plastic material. Some may need less or more cool downtime between passes in order to control shrinkage, sag and adhesion.
Dual Cooling Fans
The extruders come with two nozzle cooling fans, installed in the back and the front. The fans are powerful. They cool the dual extruder head and filament effectively and keep the printing chamber cool.
Many users claim it's easy to print with PLA and other filaments that require high nozzle temperatures. You can even remove the acrylic covers to facilitate better cooling when printing with such filaments.
The fans also cool the inactive hot end down to around 175°C when doing multi-material printing to ensure proper retraction. There's no oozing of extra molten filament from the inactive nozzle, which can cause unwanted flecks on the printed object. You get clean prints.
The fans are software controlled; hence they switch on and off as needed. They do make a noticeable amount of noise, but it's not too loud to be annoying.
The Build Area
The BIBO 3D has a moderate build area that measures 8.4 x 7.3 x 6.3 inches. It's spacious enough to accommodate most of the print jobs, including slightly larger objects. It consists of a glass plate that heats up to 100°C. You can experiment with different types of filaments as the heated print plate helps reduce the chance of any curling or warping.
However, it doesn't cling to some material properly. You have to use additional adhesives like glue sticks or painter's tape to get the first layer to adhere. The parts also become hard to remove when you're done. Several users equally mentioned that the bed plate is thin and doesn't contact the glass plate well.
Printing temperature-sensitive materials like the ABS filaments is not challenging though. The printing chamber is fully enclosed during operation, which effectively transfers the heat throughout and maintains a stable temperature inside the printer. If you need a reliable printer that can handle ABS with support, right out of the box, then this is a suitable option.
Laser Engraving
The laser engraving add-on is a feature that's rare in many other printers. A lot of users were not pleased with it though because it's not that powerful. It's rated at 500mW and has a maximum resolution of 20 microns.
It needs a print speed of around 20mm/s and a retraction speed of 20mm/s to get better results, so besides not having strong power, it's pretty slow.
You get good results though when engraving on lighter/softer materials such as wood, cardboard, paper, leather, some plastics, and others. You can make your personalized objects or artworks and engrave on them your inscriptions or designs.
It can't engrave on metal and materials like marble, but you can get moderate success on certain dark color acrylic panels. It's also suitable for cutting paper or cardboard. The engraving area is almost the same as the build area for the 3D printing, at around 8.4 x 7.3 inches.
Supported Filaments
With an enclosed print chamber, heated print bed and a dual extrusion system, you can print many different materials with this BIBO printer. You can use ABS, PLA, TPU, PETG, nylon, carbon fiber e.t.c. You can also print a dissolvable filament like HIPS for support.
The dual extruders do handle multi-material and multi-color prints well. You can print two-color or two-material objects without having to change the filament during the printing process. The G-code filter is programmed to tell the printer precisely when to use each color. However, merging the colors into a single solid object is a problem – the quality is mostly average.
Usability and Connectivity
The unit features a large color touchscreen on the front. Its interface is user-friendly and relatively easy to operate. You can alter most of the settings directly from the screen, including the fans' settings – you can control the fans anytime during the print process.
The screen itself is adequately responsive, but it still has a few minor issues. For instance, there are no preset temperature options that you could quickly select.
You have to tap the "temperature increase" button several times to attain the ideal temperature you want when preheating the extruders or the bed. The screen control system also seems to have bugs – you get thrown often out of your desired sub-menu and back to the main menu.
The good thing is that the unit offers multiple connectivity options. You can use an SD Card, a USB flash drive, or a USB cable to connect it to the computer.
Wi-Fi connectivity is available too – you can link a smartphone, tablet or laptop with the printer and operate it remotely using the Wi-Fi controls. There's also a smartphone application that gives you access to the printer throughout, regardless of the geographical distance.
BIBO has included both the Wi-Fi and Laser engraving modules in this printer, instead of selling them separately like they do with the other models of their printers.
Software Compatibility
The BIBO 3D is an open-source printer. It's compatible with various open and standard 3D software and slicing applications. Some few options that the company provides configuration for include Simplify3D, Repetier-Host, Cura and Makeware. You're not locked into one dedicated software – you can choose as per convenience.
The standard settings provided work reasonably well although you can fine-tune them to suit your exact needs as well as the filament material you're going to use. The printer is equally compatible with all operating systems. It runs on Mac, Linux or Windows without any issues.
Assembly
The unit comes nearly fully assembled, but there are a few components that you have to set to start the print process. That includes installing the extruder block on to the X-axis carriage and attaching the top acrylic lid and the front door.
You also have to install the filament spools and load the filament into the feed mechanism, which might be a bit tricky because you need to keep it as straight as possible. Once loaded, the direct-drive extruder technology will help keep it straight while inside the transmission tube.
The other thing you'll have to do is to level the bed. There's no automatic levelling. You have to level it by adjusting the wingnuts manually, which many users found challenging and can take a lot of time.
Installing the laser engraver doesn't pose many challenges. It mounts to the X-axis gantry where the extruders' head is – it replaces it and connects to one of the extruder's cooling fans.
Setting up all these components is relatively simple. The problem is that it can take longer to do, especially levelling the bed and calibrating the laser engraver to the right focal length and speed. The installation manual doesn't seem useful either. The instructions are not clear enough to guide you step by step through the process.
Useful Extra Features
Filament Run-Out Detection
The BIBO 3D comes equipped with sensors that detect when the filament is almost about to run out during a print. The system automatically pauses and saves all the work until you load more filament. It then automatically resumes the print process once you reload the filament.
It continues exactly from where it left, so you get a flawless print which is convenient when doing large volume object printing. For most printers, you have to start the print process all over again from the beginning when the filament runs out.
The function appears not to be highly reliable, though. The sensors occasionally fail to work, and once they do, you don't receive any notification when the filament begins running out. The machine just continues with the print until it uses all the filaments.
Power Resume Function
A print resume function is another feature that this unit offers, and it allows it to continue/resume printing exactly from where it stopped after a power failure. You don't have to start the whole process over again. The system saves the work (progress) and simply pauses the printing process. It's a feature that's equally rare in many 3D printers in the same price range.