CubePro 3D Printer Review
Cube 3D printers are manufactured by 3D Systems and they are fairly fast, reliable, economical, and safe to use. They score major points, particularly when it comes to design. They look so cool with no components flying around and include helpful features like multiple extruders and automatic calibration.


They are a bit limited though in terms of software compatibility and performance, and also the type of filaments they support. This review looks at two of the top Cube 3D printer models available on the market and we'll cover what they offer and how they perform.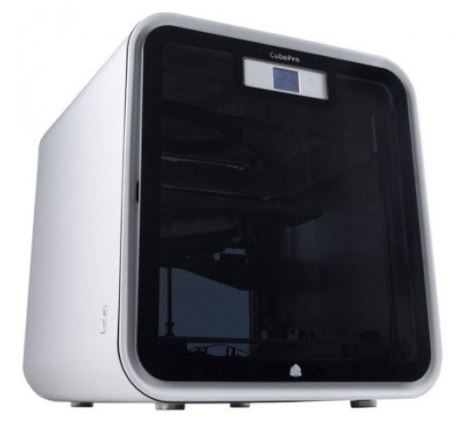 The CubePro is originally from 3D Systems' Cube/Cubify line of consumer printers. It's a nice-looking 3D printer that's affordable, functional, and offers a large print bed. It comes in three different versions; CubePro (single extruder), CubePro Duo (dual extruders), and CubePro Trio (triple extruders). These options allow you to make prints with multiple colors or materials.
However, each extra extruder diminishes the build area. The single-extruder version has a larger build area at 285mm while the triple version has a smaller area at 200mm. In this review, we look at the single extruder version.
Pros
The prints are of decent quality
The build area is fairly large
Safe and easy to use and operate
Simple to set up and maintain
Comes with a one year warranty
Cons
The quality of prints varies at fast resolution
Some prints occasionally fail to adhere to the print bed
It's heavy and takes up lots of space
Supports only 3D Systems' filaments
Compatible with only 3D System's software
Specifications
Extruder – single, dual, triple
Max Extruder Temperature: 536°F (280°C)
Layer Resolution: 70, 200, 300 microns
Extruder Nozzle Diameter: 0.4 mm
Printing Speed: 15 mm/s
Calibration: automatic leveling
Build Area: 11.2w x 9.06h x 10.6d inches (single), 9.56w x 9.06h x 10.6d inches (Duo), 7.89w x 9.06h x 10.6d inches (trio)
Filament Diameter: 1.75mm
Supported Filaments: PLA, ABS, Nylon cartridges, and rinse-away support material
Connectivity: Wi-Fi, USB
Weight: 90.7 pounds
Dimension: 22.75 x 23.25 x 22.75 inches
Design
Like most of the other 3D Systems' printers, the CubePro has a simple but stylish design. The sleek white cuboid frame with rounded contours, plus the acrylic enclosure with transparent glass panels on the front part and the back makes it look elegant and professional.
Everything about it has been well thought out and optimized, from the intelligent component placement to the organized cable control systems and clean circuitry, you get an overall ordered feel both inside and outside the printer's casing. The same applies to the hardware, which is of high quality – there's no knock-off parts or any cost-saving omissions.
The frame is a heavy-duty industrial-grade metal. It's sturdy and rigid – it keeps the machine steady during printing. The base plate is equally a solid 3/16 inch aluminum plate and it holds both the electronics and the frame in place. The Z-axis frame is a thick metal plate too and there's also a plastic plate placed over the electronics to help keep everything clean.
Generally, this is a strong and rigid printer with great overall stability. There are even see-through glass panels placed on the front and back of the printer that allows you to easily monitor the ongoing printing inside. The only downside is that it's big. It takes up quite a lot of space and it's heavy too, weighing 90.7 pounds, so you might need help to carry it around.
Print Quality and Printing Speed
The CubePro offers different extruder head options; a single extruder head model that prints just using one color, a dual extruder model that prints using two colors, and a triple extruder model that prints three colors.
All the extruders can print at resolutions of 70, 200, and 300 microns. The print head reaches maximum temperatures of 536°F (280°C) and similar to the Cube 3D printer, it runs sideways (on X and Y axes) as the build plate moves up and down (along the Z-axis).
It produces prints that are of decent quality. You get the best results with PLA filament than ABS. All the dimensions and details seem to always come out almost perfectly, particularly when doing fairly large or simple designs like sloped-or-rounded-top prints.
Complex projects or designs with large, flat-surface tops tend to have problems like over extruding, missing layers, imperfections, or bed-height issues, especially when at higher resolution settings.
The printing speed is 15mm/s which is fast for small projects and higher resolution. However, printing is very slow at 70-micron resolution, but the quality and level of detail of the print are great. The quality is inconsistent though when using the fast resolution of 300 microns.
The Build Area
The build area of the base model (single-extruder version) measures 11.2w x 9.06h x 10.6d inches. It's the largest build area amongst the three versions. The others measure 9.56w x 9.06h x 10.6d inches (Duo) and 7.89w x 9.06h x 10.6d inches (trio) respectively.
It offers plenty of room to create substantial prints of various shapes. The build plate itself is a thick ceramic glass that's covered on top with a white plastic sheet. It's not heated, but most prints had no issues sticking on the bed. However, while most prints we produced had no issues, some did fail to stick to the bed and resulted in a gooey mess.
The good thing though is that the enclosed design of the printer creates a sealed and heated chamber, and it's reinforced by an insulating foam lining around the front panel to prevent heat from escaping.
Therefore, the temperature remains stable inside the build area. The prints are not exposed to the temperature changes in the outside environment, so they're not too susceptible to uneven cooling or cracking.
There were, however, few cases of prints warping when using ABS, especially as their size increases. The default software is also set to print objects without supports like in the Cube 3D model, meaning prints that have sections wider than the base may not always come out accurately.
Supported Filaments
This model is capable of printing in ABS, PLA, and nylon filaments with a diameter of 1.75mm. It uses only 3D Systems' proprietary filaments that also include a rinse-away support material. The downside is that 3D systems charge $49 for each cartridge you purchase, and this contains less than 2 pounds of filament.
On the upside though is that the filaments come fitted with embedded microchips which communicate with the printer to inform it what material and color is loaded and also how much is left. This, however, prevents you from using third-party filaments as they can't be detected by the machine, hence you can't experiment with different other materials.
The company does offer 24 different color options for its cartridges. The duo and trio versions handle multi-color prints well but struggle a little when doing multi-material prints, like PLA and ABS. They can print in both simultaneously but the temperature preset is a bit cool for ABS, so it warps sometimes.
Usability and Connectivity
There's an LCD touchscreen display on the top in the front part of the printer that provides onboard controls for operating the system. It's a small screen but the menu is well-structured and simple to navigate. You can print untethered via a USB flash drive or Wi-Fi connection.
The unit supports USB to PC connectivity too and you can use the Wi-Fi to connect directly to an existing network or even create an ad hoc network.
Software Compatibility
The CubePro works with the 3D Systems' proprietary CubePro software and slicer, which are easy to use. The software is compatible with both Mac and Windows operating systems, and it can handle most of the things including where and how to place the supports.
The downside is that you have much less control over the print settings or slicing, plus the software is quite limited in terms of options and advanced features. The print options are limited to just three levels of quality (70, 200, and 300 microns).
The major issue though is the print timing predictions. It seems inaccurate most of the time – a print estimate of 45 minutes can result in a more than 2 hours print.
However, you can use any Windows 3D application with the printer. It's compatible with Microsoft 3D Builder, SolidWorks 2015, Microsoft 3D Scan, Netfabb Professional, Autodesk Mesh Mixer, Autodesk TinkerCad, Siemens Solid Edge, and Siemen's JT2Go.
Assembly
Setting up the machine and getting it started is simple. It comes almost fully pre-assembled. The only tasks left are attaching the waste bin to the printer, placing the print bed onto the build plate, and adding the filament cartridges.
The touchscreen provides step by step instructions that are easy to follow and walk you through connecting to Wi-Fi and installing the filament cartridges. Filament installation is relatively complex as it involves feeding the filament into the piping network/plastic tubes that lead to the hot end of the extruder.
The top panel of the printer is removable hence makes it easy to access the inside to perform actions like changing the filament or conducting repairs when needed. The unit also comes with 25 free 3D models to get you started after setting it up.
Like the Cube 3D printer, it often makes high-pitched whines as well as occasional clunk sounds which can be noisy when running it overnight to a point that it interferes with your sleep.