Next Wave Automatic CNC Piranha FX Review

The Piranha FX is a CNC milling machine made by Next Wave Automation which is a company we've covered before in our review of their CNC Shark HD4 model. It's a small machine compared to other NWA models like the Shark series but it does offer a good balance with regards to price and capability. The first thing is that it's a tremendously versatile and capable unit that supports three usable modules.

It combines CNC carving, a 3D printing feature and laser engraving in a single device, which is something that makes it really standout considering that many CNC machines on the market only support one module.

The unit is also just as capable as its larger cousins in the Shark series. It's incredibly accurate and features the same convenient touchscreen pendant – you don't need a computer to control it. Due to its small working area though, it's only suitable for small projects and like the Shark series models, its VCarve V8 design software is not compatible with Mac OS.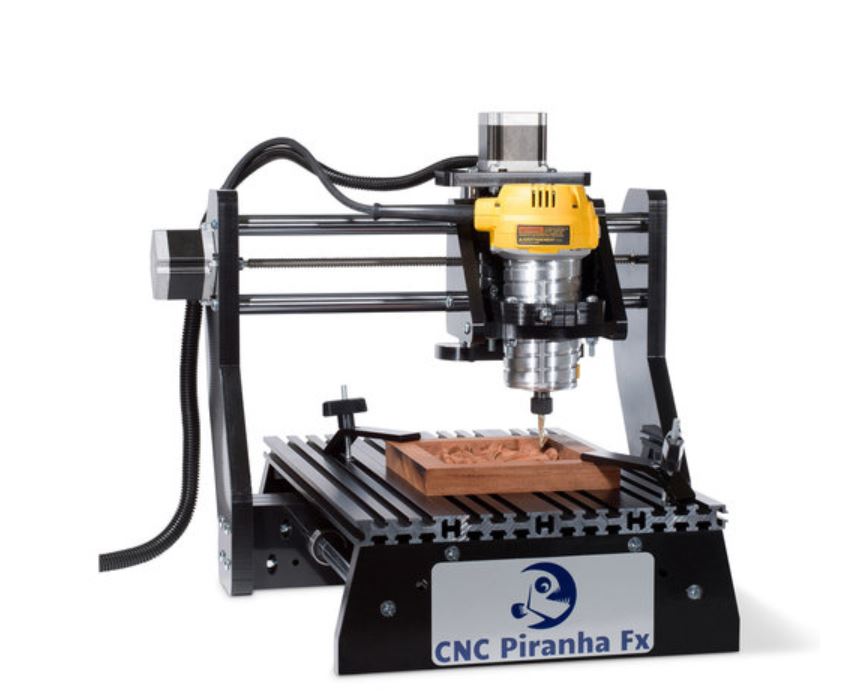 Pros
It's able to produce accurate and detailed carvings and engravings
It can work with a wide variety of materials
It supports 3D carving as well as laser engraving
It carves and engraves relatively fast
It can be controlled without being connected to a computer
It's compact enough to fit on a small desk
It's easy to set up and comes fully assembled
Cons
It has a small working area
You have to purchase the router separately
The unit cannot handle hard metals
The VCarve software is not compatible with Mac OS
Specifications
Spindle Collet: ER-11
Spindle Power: 550 watts
Cutter Diameter: ¼ inch
Programmable Resolution: 0.001 inches
Maximum Spindle Speed: 16,000 – 35,000 RPM
Working Area: 12 x 13 x 3 inches
Routing Materials: wood, plastic, paper, soft metal, fabric, circuit boards
Controller: Touchscreen Pendant
Compatible Software: VCarve V8 Design software
Overall Size: 19.5 x 20.5 x 18 inches
Weight: 59 pounds
Design
The Piranha FX is a compact desktop CNC machine with a small footprint measuring 19.5 x 20.5 x 18 inches – it's a great option for those with limited space as it is small enough to fit on a desk or bench. Its makeup style is quite appealing just like its look-alike successor the Piranha XL. The cables are well maintained, there are no hanging wires which gives the machine a neat look.
The frame of the machine is rigid. It's a strong aluminum structure that's durable and strong enough to remain stable when doing light to medium-duty jobs. It's not considerably robust to handle heavy-duty jobs, but the Gantry supports and the base are both made of high-density polyethylene which helps keep the unit sturdy when working.
All the three modules can move in the X, Y and Z axes although the Z-axes travel is a bit limited – it has a 3-inch height range after mounting the bit, the spoil board and the material. The modules (router, 3D duplicator and the laser engraver) fit well on the machine's mounting plate without requiring any further adjustments.
Despite being compact, the unit is heavy (weighs 59 pounds), so you'll need some help when you want to move it.
Performance
Like the NWA Shark models, the Piranha FX can work with Porte-Cable, Dewalt, Bosch and other similar palm routers. The unit includes a ¼-inch V-router bit and it's powerful enough to deliver precise and accurate results for most of the projects it carries out.
Its accuracy is pretty outstanding, especially with the 3D carving module. It utilizes the NWA 3D digital touch probe which is a 3D duplicator that you use to scan/trace a 3D image and duplicate/reproduce the object to the tiniest details – it can duplicate an object down to around 0.001-inch detail.
This high accuracy makes it ideal for cutting out intricate shapes or doing projects which are detail-sensitive like carving/engraving a custom circuit board.
It's also able to deliver great results with other complex projects such as carving inlays and corbels from plastics, wood or soft metals. It can make carvings and engravings of all kinds just as it is on your designs. The module is quite handy, especially when you are restoring furniture or copying broken parts for a fix. It's ideal for creating plaques and precision parts.
The performance of the laser engraver module is equally impressive. It's a feature that's included in only a few CNC machines in the market today. The tool can engrave almost anything into a perfect match whether it's an image or a drawing. Moreover, since it's a full variable laser, you can control the amount of power you wish to use.
The cutting/carving speed of the machine is relatively quick too. For instance, a sample test done using wood (measuring 7 x 7 inches) at 16,000RPM spindle speed, 30inch/min plunge rate (with a thickness of ¾ inches) and a feed rate of 7200inch/min took about 57 seconds to complete, which is fairly fast compared to many similar models and the results were pretty decent.
The Working Area
Due to its compact design, this Piranha FX model offers a working area of just 12 x 13 x 3 inches. It's a small work surface that's best suited for small-scale projects like decoration items, wooden plaques, plates, precision pieces, ornamental boxes, and carvings.
The table itself is a slotted table track that's made from aluminum. It allows for interlocking which facilitates easy clamping of workpieces at any position. Two hold-down clamps are provided alongside the unit to make fixturing the workpieces simple – they do well to keep the materials firmly in place during the milling/engraving process.
The downside is that the outer clamp might be a bit big for the router and hence can cause some sliding action. You may need to get new clamps to prevent this. Another limitation is that the Z-axis height tends to become less after mounting the workpiece and setting the bit. It becomes even smaller if you use a protective/spoil board to guard the table against possible damage.
Materials
Considering that it supports three different modules, this New Wave Automatic CNC model can work with a broad range of materials including solid wood, MDF, composite plywood, plastics, stone and soft metals like aluminum. You can as well use it for engraving circuit boards although up to a certain size. The machine is stable but it's not that very rigid, so it can't really handle hard metals or heavier materials.
Usability and Software Compatibility
Operating the Piranha FX is as simple as all the other New Wave Automation CNC machines because it comes with a touchscreen pendant that eliminates the need to hook a computer or other device to control it. You just need to load the files of your project/designs into a USB drive and plug it into the USB port on the pendant.
The data is displayed on the pendant screen from where you can perform several functions like selecting the specific project you want, toggling the machine on all the axes, or start, pause, stop and even restart the milling process.
You can also set the homing position for both the X and Y axes and even control the laser engraver power since it's a full variable laser module. You certainly won't require a wired connection to a laptop or desktop computer to control the machine.
That said though, the pendant can be a bit difficult to use for users with larger hands because the touchscreen is small although you can operate it using a stylus pen. The touchscreen also tends to overheat which means you'll have to halt using it from time to time to allow it to cool down.
New Wave Automation has provided the VCarve V8 desktop design software for this particular model which you can install on your PC or laptop computer and use it to create your own designs.
The software offers lots of tools and functions that allow you to come up with simple or complex designs that you want and then save them directly to a USB drive for milling or engraving.
It's amazing software that suits both beginners and advanced users. However, for beginners, it will take some learning curve to get hold of it but once you understand it, it's easy to use. Moreover, the 3D carving module also comes with a 3D library that you can utilize to create your designs.
The only limitation of the VCarve software is that it's not compatible with Mac operating system – you can only use it on a computer that runs Windows, Linux or Raspberry operating systems.
Assembly and Support
The major advantage of this NWA model is that its parts come fully assembled hence saving you the hassle that you would often experience with other DIY machines.
The kit itself includes a mounting plate for the modules, the table and the touchscreen pendant. The package as well comes with a ¼-inch V-router bit, plus two hold-down clamps.
The router and the USB flash are sold separately, and the manufacturer recommends using palm routers like Porte-Cable, Dewalt, or Bosch. The mounting plate is compatible with any of these routers as well as the other two modules – the laser engraver and the 3D duplicator.
The company has good customer service but there have been a few complaints that they are a bit slow when it comes to responding to customer queries. You can reach them through their email or website in case of any issues.
There's also a very active community of users on several forums and platforms where you can find help and more information about the Piranha FX and other models that the company offers.