CNC Shark HD4 Review

The CNC Shark HD4 is an upgraded version of the once-popular Shark Pro Plus. It's a product of the Ohio-based company known as Next Wave Automation designs. Next Wave is one of the leading companies in the market that designs and builds affordable yet quality CNC machines.

The CNC Shark HD4 is part of the company's Shark series and it offers several improvements from its predecessor as well as a few other amazing features that advanced users will appreciate. The first upgrade is the reinforced gantry to enhance stability and the rigid interlocking aluminum table.

Other features include a new touch-screen pendant controller, auto-alignment function and X & Y homing capability. Many users were pleased with the performance of the machine as it is able to work with commercial routers and carve metal plus other materials. It also offers a relatively large workspace allowing you to do projects of different sizes.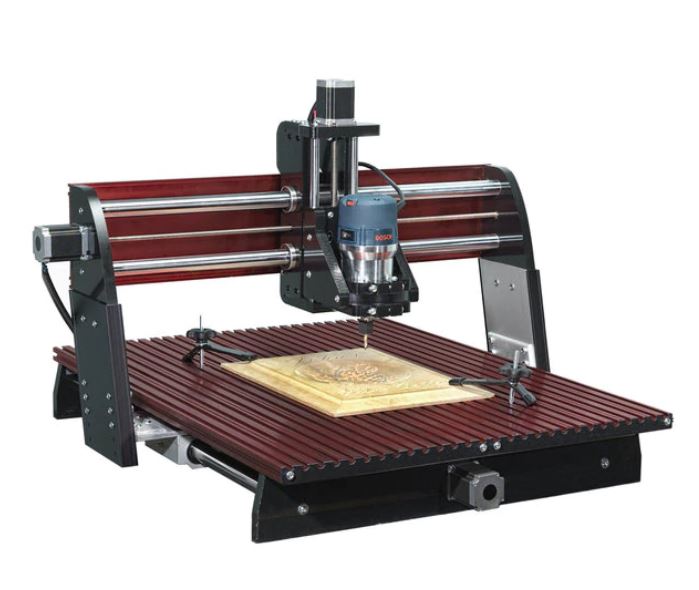 Pros
It's able to cut accurate parts from most materials
Can remove much material with each pass
It manages to complete project relatively fast
Offers enough working space for doing large projects
It can cut several different types of materials
Has a rigid and stable overall construction
It's simple to set-up and comes with a 2-year warranty
Cons
It's heavy and takes up a lot of space
The pendant can start to malfunction over time
The VCarve software is only compatible with Windows OS
The spindle doesn't automatically shut off after getting in the home position
It tends to make a howl when moving on all three axes
Specifications
Spindle Option: Next Wave Automation T30506 water-cooled spindle
Spindle Horsepower: 2
Spindle Collet: ER-11
Cutter Diameter: ⅛-inch and ¼ inch
Maximum Spindle Speed: 24,000 RPM
Working Area: 25 x 25 x 7 inches
Machine Controller: Touch-screen Pendant Controller
Connectivity: USB Flash Drive
Compatible Software: VCarve Pro and Vector Art 3D sampler pack
Overall Size: 36.25 x 63 x 24.5 inches
Weight: 187 pounds (84.8 kgs)
Design
The first impressive thing about the Shark HD4 is the rigidity and stability of its overall construction. The gantry is heavy-duty, made using a thick aluminum plate and polyethene while the bed is equally thick extruded aluminum featuring multiple grooves for attaching clamps.
It's a sturdy and stable set up designed to reduce wobbling and backlashing which were downsides of previous Shark models, especially when carving metal and other slightly hard materials.
The stepper motors that control the movement on all three axes (X, Y, Z) are also heavy-duty and they drive the threaded lead screws which are equally thick and durable, plus the movement is guided by adjustable linear bearings that are on heavy steel shafts.
Generally, we found the overall construction of the HD4 to be quite stiff and capable of providing great stability during cutting. Some users did mention that it tends to shake a bit when milling metals like aluminum but many attested that it rarely flexes during operation or when doing heavy cuttings
The unit is equipped with the Next Wave Automation T30506 water-cooled spindle which features the ER11 collet framework that allows you to use either the ⅛-inch or the ¼-inch shank bits. It's a large 2HP brushless spindle that's durable and pretty quiet when running.
Some users pointed out though that the spindle's weight tends to overcome the drive screws' tension when the power is turned off hence causing the spindle to drift/drop down until its collar rests on the table. However, it stops drifting down over time and remains where you leave it after each project run.
The best part is that the unit is fully compatible with other large 2 HP routers like the Porter-Cable 890, Bosch 1617 and 1618, and Dewalt 610, 616, and 618 series routers. It can as well handle the Porter-Cable 690 series although the 6902VS must be manually started.
When it comes to size, the Shark HD4 is not a small machine. Its overall dimension is 24.25 x 36 x 24.5 inches, so it's large for a desktop table. You'll need sufficient space to accommodate it in your garage or workshop. At 187 pounds, it's also very heavy compared to previous Shark models. It will take at least two people to move it once it's fully assembled.
Performance and Speed
Like the NWA Shark models, the Piranha FX can work with Porte-Cable, Dewalt, Bosch and other similar palm routers. The unit includes a ¼-inch V-router bit and it's powerful enough to deliver precise and accurate results for most of the projects it carries out.
Its accuracy is pretty outstanding, especially with the 3D carving module. It utilizes the NWA 3D digital touch probe which is a 3D duplicator that you use to scan/trace a 3D image and duplicate/reproduce the object to the tiniest details – it can duplicate an object down to around 0.001-inch detail.
This high accuracy makes it ideal for cutting out intricate shapes or doing projects which are detail-sensitive like carving/engraving a custom circuit board.
It's also able to deliver great results with other complex projects such as carving inlays and corbels from plastics, wood or soft metals. It can make carvings and engravings of all kinds just as it is on your designs. The module is quite handy, especially when you are restoring furniture or copying broken parts for a fix. It's ideal for creating plaques and precision parts.
The performance of the laser engraver module is equally impressive. It's a feature that's included in only a few CNC machines in the market today. The tool can engrave almost anything into a perfect match whether it's an image or a drawing. Moreover, since it's a full variable laser, you can control the amount of power you wish to use.
The cutting/carving speed of the machine is relatively quick too. For instance, a sample test done using wood (measuring 7 x 7 inches) at 16,000RPM spindle speed, 30inch/min plunge rate (with a thickness of ¾ inches) and a feed rate of 7200inch/min took about 57 seconds to complete, which is fairly fast compared to many similar models and the results were pretty decent.
The Working Area
The work area of the CNC Shark HD4 measures 25 x 25 x 7 inches, which is almost four times that of the standard X-Carve model from the company. That's a really massive workspace and opens up lots of possibilities for you in terms of projects that you can do. You can cut more parts from larger workpieces, make full-size signs and even carved panels can be completed in just a single session.
The fact that the bed is thick aluminum (about 1-inch thick) is another advantage because it's rigid and it remains flat throughout, plus the machine comes with a bed mapping feature that scans the surface and makes appropriate adjustments to cancel out imperfections.
Moreover, it's a T-slot aluminum table with multiple interlocking channels/slots for attaching clamps. You have almost unlimited clamping positions to ensure that the workpiece never shakes during engraving, especially workpieces with irregular shapes or that are difficult to fix.
The downside is that the clamps take some space off the working area, so if you are milling a large workpiece, there might not be a lot of extra space on the table for clamping. Even worse, the clamps can get in the way of the spindle as it moves along the x-axis.
The good thing is that the unit comes with auto-edge and auto-sensing function (known as the virtual zero programming) which locate and measure the workpiece then identify where the tool path start point is positioned in the bed. It maps the outside of the workpiece or table to ensure maximum accuracy which helps eliminate issues brought about by bowed or distorted workpieces.
Materials
The rigid interlocking aluminum table and the robust gantry and overall structure of the Shark HD4 including the thick steel shafts, lead screw and adjustable bearings give it stability during heavy cutting.
This solid overall construction means that you can use it with most of the large routers meant for commercial use or heavier machining like the Porter-Cable 890, or the Bosch 1617 and 1618. As such, it's capable of carving and machining a wide variety of projects from different materials such as hardwood, laminate, soft metals like aluminum and plastics.
Usability
The CNC Shark HD4 comes with a handle control in the form of a touch-screen pendant which is quite convenient because there's no need of connecting to a computer, plus it saves space, unlike having a large control box.
It has a simple user-interface that makes it easy to learn and use. All the controls of the machine are in the pendant. You can toggle the machine manually up and down, away and near, or right and left. You can as well set the X and Y homing position. You can also stop the movement of both the gantry and the spindle from the pendant should anything go wrong.
Despite being easy to operate, a few users complained that the pendant can start to malfunction after a while, controlling/doing things it wasn't set to do like entering "touch screen calibration mode," jogging the wrong axes and failing to respond to touch.
That said, the unit also comes with a separate spindle controller – it doesn't plug into the CNC controller. It looks like a UPS with an LCD screen and several buttons that you can use to adjust the spindle speed and change the format/measuring unit of the speed.
Once you do a tool change, the pendant is able to tell you what the tool is and after the machine completes the first tool path after the pocket tool path is done, it returns the spindle to the home position. The spindle keeps running though after it's in the home position – it doesn't shut off on its own. You have to shut it off manually from the spindle controller.
Software Compatibility
You won't require a separate CAM software with this Shark HD4 model since it comes with the VCarve Pro design software as well as the Vector Art 3D sampler pack.
The VCarve Pro, in particular, offers more features than most other CAM software and more than what an average user will ever need. It allows the unit to cut in 2d and 3D, and it has powerful drawing tools and hundreds of clip art files that you can use to come up with the design of the part/project you want right from scratch.
The software also includes the virtual zero function that helps compensate for twists and warps in both the workpiece and the table. Another useful feature, especially when dealing with large projects is that you can tile a project automatically meaning that you can divide a workpiece into sections so that you can fit them on the machine.
It does take some learning curve to understand and master the software, but instructional videos/tutorials are available to walk you through the process. The software is compatible with several other 3D modelling programs like Sketchup. It's equally fully customizable – you can modify the router bit profiles or even create your own that matches the bit you want to use.
The only major downside is that it's only compatible with Windows 7 or higher and needs a PC with a minimum 300MB disk space, 4GB of RAM and a 2 GHz multi-core CPU. It's not compatible with Linux or Mac/iOS operating systems.
As we mentioned earlier, this model doesn't require a computer to control or run it, which is quite convenient for repetitive runs. The pendant features a USB port where you plug in a USB flash drive containing the file of your project.
You generate the g-code from the VCarve Pro, save it on a USB drive and then connect it to the pendant controller where you can run it and initiate the milling process. The software doesn't feature a preview mode – you have to make sure the g-code is correct before transferring it to the machine.
Assembly and Support
Many users found the unit relatively easy to set up. You have little work to do other than attaching the gantry to the base, mounting the router, attaching the pendant and calibrating the bed to ensure that it's flat.
Once you are done with that, the final step is to register the machine on the company's website. Maintenance is simple too. The only thing you'll have to do frequently is ensuring you have a bucket of water for the liquid-cooled spindle.
The machine is fairly quiet when working but it tends to make a howl when moving the spindle over the Z-axis although it's intermittent. Some did report that it makes a howl on all three axes from time to time, but the Z-axis is far the worst.
In case you have any issues with the machine, getting customer support from the company is not a hassle. You can reach them via their website or phone and the team is always quick to respond.
The company also has a very active and supportive community including their own shark forums at cncshartalk.com where you can access helpful information form other users about this particular model and others within the Shark series.Moreover, you can expand the unit even further as it features an expandable electronics package that gives you the capability to add extra attachments like the CNC Shark 4th axis, laser and 3D printer.