Genmitsu CNC 3018 Pro Review
The CNC 3018 Pro is a generic engraving machine that's made in China and much like the K40 Laser cutters, it comes under different brand names. They all seem to originate from the same factory although there's no one manufacturer. Due to the availability of several different versions out there, the specifications for these machines can vary.

The one we're reviewing here is Genmitsu CNC 3018 Pro which is an upgraded version of the CNC 3018 model. The number 3018 is a reference to the build space in the X and Y axes (300 x 180 mm). The CNC 3018 Pro is called an upgraded model due to the new mounting that it comes with for the X and Y lead screws and rods.

It's a small CNC router for general craft projects and woodworking. It's capable of delivering smooth cuts from wood to wax. It also offers a decent build volume plus other amazing features like being able to work with several different materials, being easy to operate and having open-source hardware and software.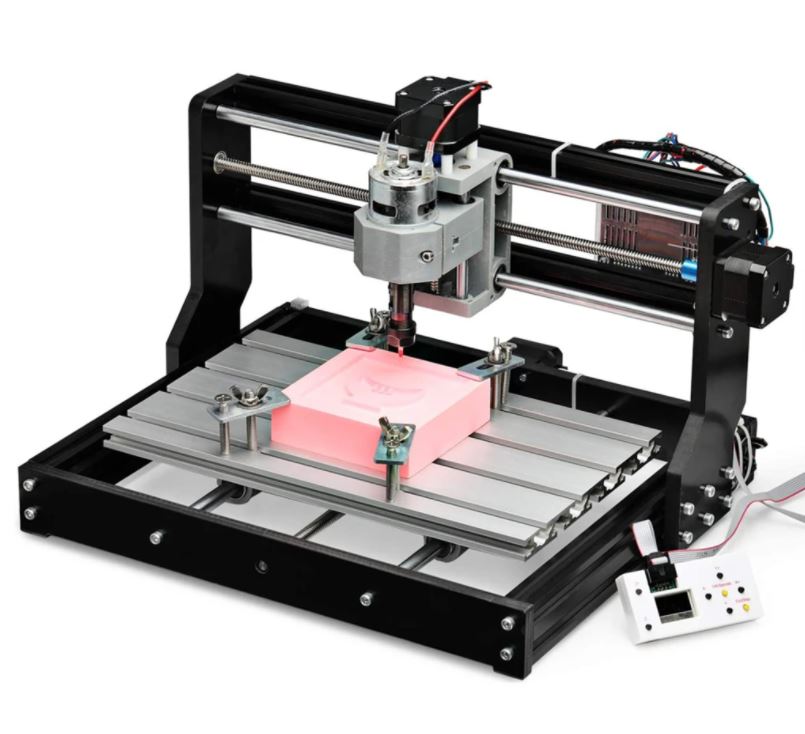 Pros
It's able to deliver smooth and detailed cuts
It can work with different types of materials
It's simple to use and doesn't need to connect to a computer
It's made of high-quality materials
The assembly is fairly easy
It's backed by a 1-year warranty
Cons
It can't engrave hard materials
The stepper motor drivers sometimes tend to fail or burn up
Specifications
Spindle options: 775 motor
Spindle power: 120watts
Spindle Motor: 775 motor, 12 V
Maximum Speed: 10,000RPM
Programmable Resolution: 0.0006mm
Working Area: 300 x 180 x 45mm
Machine Table: Extruded Aluminum
Routing materials: Plastic, Wood, PVC, PCB, acrylic, soft aluminum (6061)
Connectivity: USB
Compatible Software: GRBL V1.1 or GRBLControl (Candle)
Overall Size: 330 x 400 x 240mm
Weight: 15.27pounds (6.9kgs)
Design
While both the CNC 3018 and the CNC 3018 Pro are almost similar in their frame design, the Pro version is more rigid. It ditches the plastic side panels for wider aluminum extrusions for the sides as well as vertical cross braces. The back and front base structures plus the vertical sides which support the spindle assembly are equally solid made from thick Bakelite.
The ground bars and the two lead screws that the spindle and the table travel on are all metal and appear also to be of very good quality. This upgraded frame design and the fact the base height has been raised to about 4 cm enhances the durability of the machine and also helps improve its stability during milling. Some users did mention though that it tends to vibrate a bit when engraving materials like plywood with a tiny tool.
Moreover, despite the good quality of the aluminum extrusions, they are often shipped full of chips due to being tapped and drilled hence will require cleaning, especially from the threads so that they don't end up getting damaged when assembling them.
The spindle mount assembly is made from a hard plastic, probably ABS. It's durable although some claimed that the plastic parts were 3D printed but they are actually made from injection-molded plastic (the eject pin marks are very visible).
The four Y-axis sliders that bolt underneath the table and the Y-axis nut seat are also made from the same injection-molded plastic. However, the sliders seem flimsy as few reported that some of their bases are badly warped and one even has lumps on it which needs removing in order to be mounted properly.
The mill table, on the other hand, is constructed from an aluminum extrusion. It's robust and durable. The spindle is also of good quality and its motor features an ER11 collet extension that comes already attached (complete with a 1/8-inch ER11 collet).
The overall size of the machine is 330 x 400 x 240mm so it can easily fit on medium to large-size desktop tables. The wires and cabling are all well-organized while the control board comes covered in a sturdy clear casing featuring a built-in cooling fan. It can't easily get damaged. The whole unit is fairly light too – it weighs just 15.27 pounds, so moving it won't be much of a hassle.
Performance
The CNC 3018 Pro utilizes a 775 spindle motor and an ER-11-style chuck that comes already attached with a 1/8-inch flat end mill. The maximum power rating of the spindle motor is 120W, so it's powerful enough to cut different materials and the cuts produced are quite decent for the most part.
For instance, it cuts plywood very well with the 1/8-inch flat end mill at a feed rate of 3mm/sec, spindle speed of 600 rpm and at 0.5 mm cut depth. The cut edges are smooth although sometimes they might be quite straight. Most were satisfied with the outcome you get with the 1/8-inch end mill.
The 1/16-inch ball end cutter also seems to work fine. You get good results with most projects – it works well on logos although the details are not always precise, especially on the letterings. The tool nonetheless does what you expect it to do as many pointed out.
Cutting 1.66mm-thick PCBs using the 0.5mm carbide end mill (with a 4mm cutting depth) yielded decent results too. It's not an impressive looking cutter but it works fine.
The other supplied cutters appear to be quite cheap. You can hardly mill anything with them and end up with something that looks good.
Several users did report too that the grub screws tend to come lose no matter how hard you tighten them, so you end up not getting optimum torque on them which can result in less detail or distort the design and appearance of the final cut or engraved piece.
General, this is a unit that's best-suited for small CNC router applications like woodworking and some general craft projects such as ER Collet racks and engraving letterings. Most of the end mills provided with the machine are identical and are not really useful for general milling.
The maximum motor speed is 10, 000 RPM which is slow compared to other CNC machines within the same price range – some offer a maximum spindle speed of up to 35,000 RPM. Several users even stated that the motor only reaches up to 9,000 RPM.
Still, though, 9000 RPM is moderate and sufficient to cut a relatively wide array of materials without taking long or presenting much difficulty.
The Working Area
The active engraving area offered by the CNC 3018 is 300 X 180 x 45 mm (or 11.8 x 7.1 x 1.8 inches). It's not the largest out there but it's pretty decent – you have adequate space to accommodate small to medium-sized workpieces, plus the table is designed such that you can extend the work area by adding a Y-axis extension, hence creating more space for even bigger workpieces or projects.
The aluminum T-slot working table itself is robust and stable – it can handle heavy materials and it also doesn't corrode easily. The unit comes with small clips that you use to hold down work-pieces on the table.
With the interlocking design of the table, it's pretty easy to hold down irregularly shaped workpieces using the clips. However, holding slightly large pieces can be a bit tricky since the clips have small bolts. They tend to be useless if you want to hold something a little bigger. The manufacturer also provides a pack with clamps that you can use to fix workpieces on the table.
Materials
The sturdy overall construction combined with the decent speed and power of the CNC 3018 Pro spindle motor is sufficient to allow it to cut a wide array of materials. It's capable of engraving or cutting different types of plastics, woods, acrylics, PCBs, PVCs and soft metals such as brass and soft aluminum (6061).
This broad range of materials makes the CNC 3018 Pro versatile and allows you to use it on a wide scope of projects. However, you won't be able to engrave on anything that's quite hard. The hardest it can do is soft metals, plus most of the cutters it comes with are designed for milling wood mostly. You may have to upgrade the Z-axis and the spindle if you are planning to work with hard materials.
Usability and Connectivity
Operating this unit isn't challenging at all. There's an offline control module/interface that connects to the mainboard of the machine via a cable.
This module allows you to control the machine directly without it being connected or tethered to a computer which is convenient since the cut is not stopped midway through like is the case when using a computer, especially when it lags or crashes.
Moreover, with a custom software and an integrated mainboard, communication between the controller and the hardware is seamless by design. There's no any lagging. The offline controller is generally a safer bet, particularly for longer cuts – it will save you from restarting your projects often and wasting material in the process.
To start the milling process, you just save the needed carving files into the supplied USB drive or SD/TF card and transfer it into the off-line controller which has a 1GB capacity. There's no touchscreen interface, just simple-to-press buttons and a small LCD screen that displays the menu and the various functions you can perform.
From this offline module, you can control almost all the actions of the machine. You can manually move/adjust the X, Y, and Z axes, manually open (or close) the spindle, change the spindle speed, select or exit cuts from an SD card, and perform several other functions.
You can also use the USB port on the offline board to connect it to a computer where it appears as a USB mass storage drive allowing you to access the engraving file directly from the computer or transfer it to the offline controller.
The problem with the USB cable connection as seen in some cases is that it sometimes doesn't respond which like we said earlier can cause the milling process to stop suddenly forcing you to start all over again. The other limitation is that you can't have both the PC and the controller connected to the mainboard at the same time – you can only use one at a time.
Software Compatibility
The Genmitsu CNC 3018 Pro uses the GRBL firmware which is an open-source CNC control software that runs on Arduino. You have to load it onto your PC or laptop that you plan to use to operate the CNC machine.
Many found it easy to understand and use – you set the tool and the datum, and then send the program/design to the machine. However, the GRBL software is unable to create a g-code program. It's only able to send commands to the machine using the g-code program that you load into it.
In other words, you have to use separate software to generate the g-code file and load it on to the GRBL software in order to send it to the machine – the software you select must be compatible with GRBL. The GRBL software is compatible with Mac and Windows XP/7/8/10 operating systems.
Assembly and Support
The whole unit comes in a kit form and it's well-packaged in a surprisingly compact box that measures around 17 X 9 X 8 inches. All the components are properly packed in soft foam which is shaped to fit them snugly.
Included in the box are two small stepper motors and a third one that's already attached to the spindle assembly. There's also the mill table covered in a protective film, an ER11 collet (with an extension rod), a small box of engraving bits, a bag of cables for both the spindle and the stepper motors, and several small zip ties.
The package as well includes an extra 15000mw laser engrave with a wavelength of 450nm, which provides much more efficient engraving.
A couple of packs containing the clamping hardware is included too, one with clamps and another with the screws for building the machine. You get an SD card reader as well as green protection glasses for the laser engraver should you decide to add one.
As mentioned earlier, the unit comes in kit form, so it's completely unassembled. Despite that, setting it is not too difficult, plus being an upgraded version of the CNC 3018 model, all the components don't need to be positioned which significantly reduces the difficulty of assembly.
The whole process can take about 2 hours to complete and a small manual is provided to guide you although it consists mostly of pictures. It's not very detailed, so you may have to rely on YouTube videos to ensure the assembly is done properly.
The unit is usually noisy but not too loud to the point that it's annoying. You can place rubber feet below the extrusions to help reduce the noise.
With regards to support, the company has excellent customer service and their representatives always follow up to ensure that everything is working. They do respond fast too when contacted and try to offer solutions to most of the issues raised by customers.
Furthermore, the Genmitsu 3018 Pro features open-source hardware and firmware design, so it's very upgradable – you can add hardware like a laser engraver module. Besides that, the GRBL software is a standard CNC control program due to its dependability and simplicity hence there's lots of support and resources available in case you get stuck.