TEVO Tornado 3D Printer Review
One of the things that make the TEVO Tornado stand out is its generous printing volume. Despite being an economical, entry-level 3D printer, its build area is larger than most other similar units and it's able to deliver prints that are of decent quality.

Besides that, it does offer other interesting features like a heated bed, open-source design, and compatibility with various types of filaments. It also has a sturdy aluminum frame and it's easy to use. Its major downsides are that it takes longer to boot and tends to leave a "salmon skin" pattern on the surface of some of the 3D prints.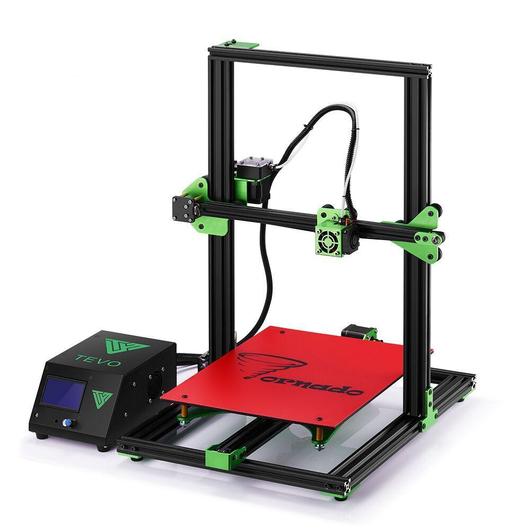 Pros
The quality of PLA and TPU prints is usually decent
Takes less time to create most of the prints
Has a large bed that heats up quickly
It works well with various types of filaments
It's compatible with different 3D printing software
Fast and easy to set up and use
Cons
Noticeable "salmon skin" effect on most of the prints
The adhesive that's provided isn't effective
The bed needs constant levelling
Takes a while to boot
There's no spool holder accessory
Specifications
Extruder Number: single extruder
Max Extruder Temperature: 500°F (260°C)
Layer Resolution: 50 microns
Extruder Nozzle Diameter: 0.4mm
Printing Speed: 150mm/s
Build Plate: Heated bed (60-110°C)
Build Area: 11.8 x 11.8 x 15.7 inches
Filament Diameter: 1.75mm
Supported Filaments: PLA, PETG, ABS, PVA, Wood, Flexible Filaments.
Connectivity: USB OR Micro SD card
Weight: 30.86 pounds
Dimension: 22.0 x 23.6 x 24.4 inches
Design
The TEVO Tornado features an open design with a vibrant punkish green print bed sticker, frame elements, and logo which all contrast very well with its overall black finish. It's certainly a distinctive color scheme that gives the printer a striking and appealing look.
The open design means that you get to see exactly what's happening and easily access the prints or fix something if it malfunctions. On the flip side, the bed and the extruder nozzle are not sealed off, so wandering hands can easily reach them and get burnt or disrupt the project.
The wiring for the printer's power supply has been attached directly to the bed through soldering. The live cables are likely to loosen over time due to agitation from the constant motion of the print bed, and can probably shock you through the frame as there's no apparent grounding of the cables.
Additionally, the quality of the cables and the cover used to enclose them is flimsy. They are wrapped in only one layer of insulation which means a slight nick can expose the live cables.
The unit's overall build quality is pretty decent though. The aluminum frame is sturdy and uses wheels rather than bearing on smooth rods which is good since the bearing wears out and rods can bend easily. However, it needs some extra bracing to stabilize the machine better as there's little movement or unsteadiness when it's printing at higher speeds.
The print head is a Titan extruder that's based on E3D's open-source original. It's a quality print head that's often used to upgrade most budget 3D printers, so it's an advantage to have it standard on this TEVO model.
The 3D printed parts are fine-tuned to hold up to the specified maximum levels that are safe to use them. This allows the TEVO to be shipped to multiple areas in the United States and Europe, as well as around the world.
The unit is quite big though, measuring 22.0 x 23.6 x 24.4 inches. Having a separate control box attached to the printer increases its overall footprint. You'll need a larger desktop to accommodate it.
Moreover, the cord is short such that the control box has to sit close to the printer where it can possibly get knocked over or even interfere with the extruder while printing. This as well poses a threat since cables can likely get caught on the bed frame's edge. Weighing in at around 30 pounds, this is not the lightest model either. You may need some help to move it.
Print Quality and Printing Speed
The TEVO Tornado's Titan Bowden extruder features a 0.4mm nozzle which provides 50 microns layer resolution and can be heated up to 260°C. It's a reliable extruder that can process a wide range of filaments.
It prints single-color objects and the quality is good for the most part, especially with TPU or PLA filaments. There's little to no space right after the gear, meaning no gaps for the filament to get wrapped around which makes printing with flexible filaments like TPU much better. The need for supports is almost minimal.
The major issue though is that almost all the 3D prints the extruder produces have ripples and lines/rings on the surface, reminiscent of salmon skin – they take smoothness and shine off objects, especially the large prints. The main causes for this are the 32 micro-step drivers (16 drivers don't have this issue) and the frame of the printer which is not quite stiff.
There is some unsteadiness or movement when the machine is printing, especially at higher speeds, which causes the bed to vibrate while it moves across the axis. This results in some rippling or ringing in the build.
Stringing is a major issue too, particularly when printing with PETG and ABS filaments. A lot of small strings of plastic are often left on overhangs and other parts of the prints which end up ruining their overall look and appeal.
ABS 3D models also don't always print to complete. The filament tends to shrink causing the prints to warp and get knocked off the bed. A few users mentioned too that the extruder can sometimes fail to reach specific temperatures.
Another issue is that the unit tends to stop working in the middle of the printing. It's an issue that happens mostly when printing from the SD card that's provided with the printer kit. It seems to be faulty and it even stops working overtime.
Generally, if you're planning to mix materials, print objects with many sharp turns, or need to load more filament to finish a print, then you may not get the best print quality with this TEVO Tornado printer. However, its printing speed is fast. It can do a maximum of 150mm/s – the quality drops a little but it gets better below 100 mm/s.
The Build Area
The build area of the Tornado is specified as 11.8 x 11.8 x 15.7 inches, however, the bed itself is slightly larger, clipping a portrait aspect ratio but with additional room in the Y-axis. It offers sufficient space to make a big print in one job, which opens up the variety of 3D models you can create.
The other advantage is that the print bed is heated using AC instead of DC. It's a distinctive feature that allows it to heat up very quickly to high temperatures.
You don't have to wait long for it to be ready to go like in other printers with DC powered beds – it can take less than a minute to reach its maximum temperature of 110°C. The bed is equally insulated to ensure it stays hot at a consistent level.
However, you need to use an adhesive on the print bed for the filaments to stick. You'll have to get your glue stick or another type of adhesive separately as the one provided by the company seems not to work at all. The bed surface itself isn't durable either – it's very easy to scratch.
Supported Filaments
The Tornado 3D printer works with a variety of filaments. It's not limited to a single material. It can print in PLA, TPU, ABS, PETG, PVA and wood. This allows you to experiment and get to know the results you can expect from different filaments which provides a good learning curve if you are a beginner.
There's no spool holder included with the printer though which is inconvenient since it's challenging to print with nothing to hold the filament. You have to make your own or purchase one.
Usability and Connectivity
Using this printer is fairly simple considering that it doesn't have a touchscreen. It features a control box with an LCD panel that shows some of the functions you can perform, temperature when the printer is preheated and ready, and the time left to complete the individual print.
You can execute most of the settings right from the control box. It features a knob and a button on the front that you just turn and press to select the desired features/settings. You can control settings for the bed, the nozzle/extruder, and the fan.
The printer does take a long time to boot though and it doesn't offer many options in terms of connectivity. You can only transfer the print files to it via a Micro SD card (TF card) or USB.
Software Compatibility
The TEVO Tornado doesn't work with any specific printing software. It's an open-source 3D printer, so you can use both free and paid 3D programs like Cura or Simplify3D to achieve the print quality you want.
Since it has no specific printing software, it boots up well with just a manual bed level. However, it seems to have a bug that tends to wipe out the control box settings when it's powered down between leveling and printing.
The supported print file formats are STL and G-code, and the printer is compatible with all the major operating systems; Windows, Mac, and Linux.
Assembly
Nearly all the parts come pre-assembled, hence it's relatively easy to set up. It arrives divided into two pieces, the top frame, and the bottom frame, which you have to join by tightening a few screws (around 12 screws). It's a simple assembly process, but it doesn't really offer much in terms of learning how a 3D printer works or the mechanisms within it.
One notable downside though is that some of the cables (covered in irritatingly curly cable wrap) are too short to comfortably plug them into their respective connections.
Besides that, the packages for the screws and other attachments are labeled, but unfortunately, nothing corresponds to the labels, either in the instructions or on the printer itself. It will take you a bit more time and frustration to determine where each part is supposed to be used.
Leveling the bed is another tricky part since it's big and you have to do it manually. You also have to constantly level it during printing, at least once after every 3 prints. This is due to the flimsy design of the mount springs. The Z-axis limit switch doesn't go all the way down hence there's no way to get sufficient tension on the mount springs for them to remain put.
Finally, there's no after-sales support for this Tornado model, which is rather disappointing considering that it has a couple of flaws that may need assistance from the manufacturer to tackle. Support is only offered for the Tarantula and Black Widow models.