Tarantula 3D Printer Review

The Tarantula I3 is a DIY kit 3D printer produced by TEVO, a Chinese 3D printer manufacturer that's based in Zhanjiang, China. It's undoubtedly one of the lower-priced 3D printers out there and it has several great features like a heated print bed, open-source design, automatic bed leveling, and automatic platform height detection.
It, however, lacks some essential features like a print cooling fan and it's challenging to set up. Other notable downsides are poor instructions and poor quality control.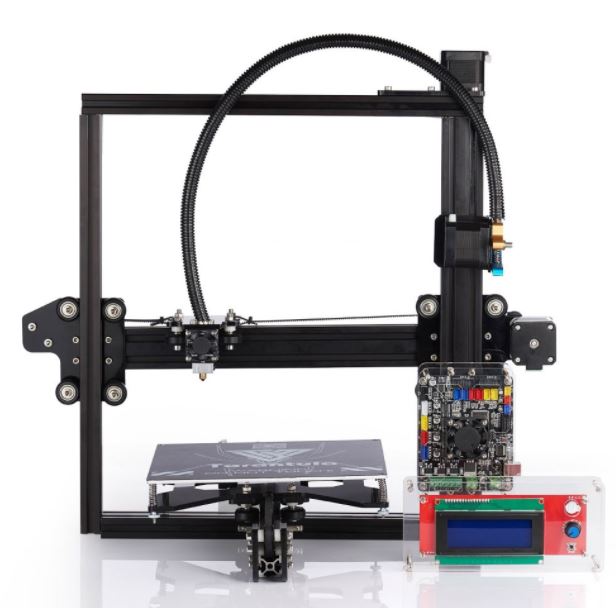 Pros
Quality of prints is mostly average
You can get fine prints at higher resolutions
You can make small to medium-sized objects
Printing speed is relatively fast
It can support various types of filaments
It can work with most third-party slicing software
Cons
Intricate designs often result in failed prints
Struggles to create ABS and PETG prints
The frame is not stiff and stable
Not safe to use around children
Challenging to set up if it's your first time
Poor quality control
Specifications
Extruder Number: single extruder
Max Extruder Temperature: 500°F (260°C)
Layer Resolution: 50 microns
Extruder Nozzle Diameter: 0.4mm
Printing Speed: 60 – 150mm/s
Build Area: 7.8 x 11.0 x 7.8 inches
Filament Diameter: 1.75mm
Supported Filaments: PLA, ABS, PETG, PVC, Nylon, Flexible PLA, Wood
Connectivity: SD Card, USB
Weight: 22.3 pounds
Dimension: 16.9 x 17.3 x 15.7 inches
Design
The Tarantula I3 is essentially based on the classic RapRap Prusa I3 printer style, which is clearly demonstrated in the simplicity of its design. It's certainly not the most attractive 3D printer model to look at – the frame features just a standard black color scheme and the layout is a bit of a mess with randomly placed pieces. The neat Tarantula graphic on the print bed is the only appealing part of the design.
There's virtually no cable management either. The wires and cables are all over the place, you have to use cable sleeves and zip ties at least to make them look slightly better and neater.
The power supply sitting next to the printer is also messy – there are lots of cables that come out of it all going to the control board and they are not hidden. It's a very dangerous setup to have around pets and children because the power supply is open where the wires connect.
Based on the Prusa I3 design, the printer's X-axis is placed on rail-mounted pulleys that move the print head/extruder back and forth. This rail is equally fixed to a lead screw to enable Z-axis movement. As for the print bed, it moves in the Y-axis, which is equally placed on rail-mounted pulleys.
The Tarantula I3 model, in particular, is a single extrusion printer equipped with a full metal Bowden extruder (E3D). The mainboard has connections that allow for additional extruder and hot end, which means it's possible to upgrade to dual extrusion although dual and even triple extruder versions of the model are also available.
The heating plate is solid anodized aluminum. The frame is also aluminum but it's not incredibly robust and stable. The Z-axis stepper motor is top-mounted, which makes the top of the frame a little heavy hence ending up causing a bit of banding of the Z-axis as the frame isn't stiff – it tends to wiggle a lot during printing.
You'll need to print stabilizers and brackets to stiffen it, especially the top right bracket that has the mounts for Z-axis motor. The unit comes with eccentric nuts, which come in handy in helping tighten the bed carriages as well as the print head when they loosen up.
One major troubling problem we found with this model is poor quality control. Pins often loosen from their connectors mid-print while the hotend temperature probe fails from time to time after doing a dozen hours of printing.
The end-stop cable seems also poorly made as it tends to loosen from its pin mid-print (spare temperature probe and end-stop cable are provided, though).
Acrylic parts, from the motherboard to the base of the print bed and the LCD screen break easily if under stress (but you can re-print them). The positioning of the Z-axis motor is also hazardous because the lead screw is likely to get in contact with essential wiring.
The unit itself is a bit large, measuring 16.9 x 17.3 x 15.7 inches. It takes up significant space, a small desk may not be able to accommodate it. You'll need some help when you want to move it too since it's slightly heavy (weighing 22.3 pounds) and some of its parts like the control box and the filament spool are separate from the frame.
When it comes down to functionality, the Tarantula I3 is pretty much a bare-bones printer. It only features a small screen for controlling the prints when not connected to a computer, but that's about it.
Print Quality and Printing Speed
The Bowden extruder (E3D) of the Tarantula I3 utilizes a 0.4mm nozzle and it's capable of reaching higher temperatures of up to 260°C, which is hot enough to handle the vast majority of filaments like ABS, PETG, Nylon, and even wood filled filament.
You can print layer heights as fine as 0.05mm (50 microns). The quality of the prints is average most of the time. However, you get fine prints when printing simple items like a smartphone case or the spool holder, especially at 50-micron layer height – there's little to no stringing or overhangs per se, and the details are well replicated.
Printing intricate or small parts mostly results in failed prints. The unit lacks a print cooling fan, making it hard to keep the temperature consistent, and the build area is also open and exposed to room temperature changes. Printing filaments like ABS and PETG mostly ends up into a mess because the layers below don't cool faster.
In general, you may have to do some upgrades like adding a cooling fan to get it to work appropriately and print decent models from intricate designs. TEVO, however, offers another version known as the Tarantula PRO which comes with dual fan layer cooling.
The printing speed is much faster than many other 3D printers, even some that are priced higher. There's less weight on the motor, hence it's able to print objects at higher speed (up to 150mm/s) without comprising much on the quality.
The Build Area
The build volume is around 7.9 x 7.9 x 7.9 inches, which is larger than what most entry-level printers offer. It's sufficient space for printing small to medium-sized objects.
The major highlight though is that the bed is heated. It's capable of reaching up to 120°C, meaning you can use various different types of filaments that require high temperatures like the ABS and PETG, as well as other materials, such as PLA, PVC and Nylon.
We were initially impressed by the range of filaments that this printer could handle, but there are too many variables that you need to take into account to be able to print with them successfully.
There's no insulation under the bed and the unit features an open design – this can lead to temperature fluctuations and end up messing some of the prints, particularly when printing with ABS, which is a temperature-sensitive filament. You may have to stick with the basic filaments, at least initially, until you get to figure out this model's quirks.
The print bed is coated with a BuildTak-like substance that seems to do a good job in keeping prints stuck to it. However, removing the prints once completed is a hassle since the bed grips them firmly.
It requires some degree of force to get them out, and this tends to tip the print bed and cause it to pivot over its mounting since the carriage and pulleys are not robust. You need to re-level the bed every single time this happens, which can be tedious when using filaments like PETG that usually requires an exacting first layer.
Supported Filaments
The Tarantula is designed to support a wide range of filament materials and it even comes with small samples of ABS and PLA, about 250 grams each which is only enough for printing two brackets and a fang fan.
Unfortunately, due to the lack of cooling fans and the open-frame design, it's hard for it to handle anything other than PLA because the temperature is too inconsistent most of the time. You would often get failed print jobs with ABS and other materials that require a stable high temperature.
Usability and Connectivity
The printer has an onboard control panel that features an LCD screen and a knob for easy and quick navigation. The LCD screen displays the printing information and you can control prints right from the panel, but it's not quite intuitive and the menu only offers basic functions.
The knob is responsive and easy to use – it doesn't slide past what you want to select when scrolling through the menu. There's also a USB port on the unit that allows you to connect it to a PC where you can control and initiate prints directly from your computer.
The unit does support an SD card too for untethered printing. An 8Gb SD card is included in the package which is sufficient for the day-to-day uploading of print files to the printer. Those are the only two connectivity options you have – it doesn't support Wi-Fi connection.
Software Compatibility
The Tarantula is an open-source printer hence you can use most of the third-party slicers with it including CURA, CraftWare, MatterControl, Repetier, TinkerCAD, EasyPrint 3D, Simplify3D and Slic3r. You basically have the flexibility to use the software you are comfortable with and also the ability to manipulate every aspect of your prints prior to printing them.
However, in terms of file formats, it can only support G-code and STL, but it's compatible with all the main operating systems, that is, Windows, Linux and Mac.
Assembly
The Tarantula comes well packed, in a custom printed box that looks quite professional. Inside the box are labeled plastic zip lock bags containing the parts and components that make up the printer.
They are organized in three layers of foam packing. Components like mounts and motors have been placed in a similar foam cutout with their corresponding hardware, which is great as it makes it easy to figure out what component or part goes where.
Setting it up is actually the challenging part and it can take even days if it's your first 3D printer to assemble. It comes in kit form, hence it's completely unassembled. The only part that's fully assembled is the print head.
There are about 15 components and many small parts that need to be attached, so you need to have a better understanding of the printer to set it correctly. Unfortunately, the assembly instructions are not useful as they don't fully correspond to the labels of the bags provided in the kit.
You need to check and confirm the contents of each bag against those of the instructions before beginning the build. It's a time-consuming task, plus some assembly steps aren't straightforward and certain diagrams contradict each other, showing the wrong placement of parts, different from how the printer should be assembled.
Additionally, several users reported that their kits arrived without components or with some parts that don't fit and getting replacements can take a couple of days.
The whole set up process is basically challenging and can take about two days if you're inexperienced. The good thing is that you get to learn the ins and outs of 3D printing which helps enhance your knowledge about how the technology works.
Bed leveling is a breeze because it's automatic. The system utilizes a proximity sensor that helps it to detect the print bed and it's equally equipped with an automatic platform height detection feature. However, the frame isn't very stable and the print bed tends to pivot over the carriage and pulleys after several prints – you'll have to constantly re-level it to ensure successful prints.
That said, you do get an 8 Gb SD card, a spare temperature probe and also a spare end-stop cable, all of which prove useful and at least make up for the various levels of incompetence and flaws in the rest of the design and build process of this TEVO's Tarantula model.
Support
Getting customer support from TEVO is a problem. There are no contacts like an email or number where you can talk to someone at TEVO. Their website doesn't look anything close to the professional websites we've seen of other brands.
You can only contact them via the support page on the website, which is outsourced to China and even when you do, they are reluctant to respond to most queries. It's a real shame considering that $200 is still quite a lot of money, plus customers deserve at least some form of after-purchase support they can rely on.
There were several reports of the printer shipped with failed or damaged parts (damaged heat bed and stepper motor mostly), and many of the customers complained that TEVO failed or took long to respond or to send the replacement parts.
Despite that though, there are several thriving online communities that are clearly passionate about the machine, where you can get solutions to some of the common problems that you are likely to encounter with this particular model.
TEVO's iterative design practices, however, mean that much of this helpful information becomes quickly outdated each time the company releases an upgrade, so you might end up having to fix some of the problems on your own.
Fortunately, the printer's design is totally open-source, hence you can modify and improve it to make it perform completely as you wish. Upgrades are absolutely essential due to poor quality control.
Besides the printable mods, TEVO offers a couple of different official upgrade kits for the model too, including dual Z-axis upgrade, dual extruder kit, Titan extruder and more. There's also an updated version of the model, the TEVO Tarantula Pro, which comes with the upgrades and it's fairly easy to assemble.