Startt 3D Printer Review
The Startt 3D printer is a product by iMakr, a British company that outsources manufacturing from China. It's one of the most affordable printers on the market designed for beginners that want to learn about 3D printing. Some of its best features include interchangeable nozzles and compatibility with most slicer software.

It also has a moderate build volume and does deliver good quality prints most of the time. It's just a decent basic 3D printer that's very affordable. However, it works with just a few types of filaments, plus the bed is not heated, and it has to be levelled manually.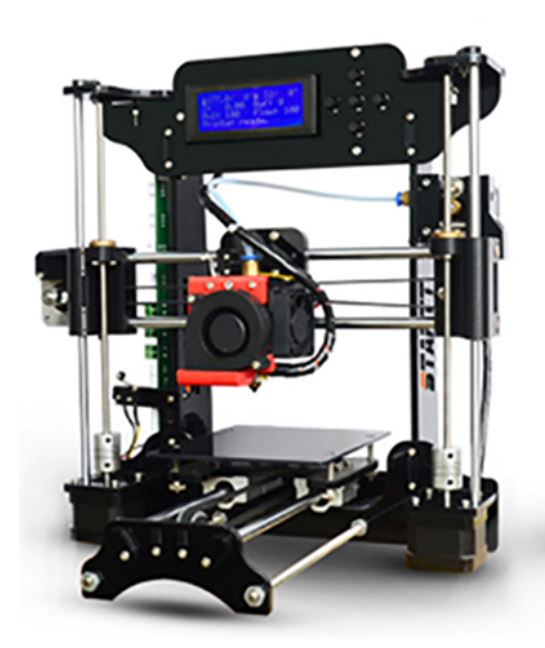 Pros
Decent print quality, especially for small prints
Has a considerate build volume
Offers varying resolution options
It comes at a highly affordable price
Compatible with any 3D slicing software
Cons
Prints tend to have lots of ringing on the surface
Printing speed is slow, and it can only print PLA
Assembly is a bit tricky and needs manual bed levelling
Some 3D printed parts are not of good quality
It doesn't come with a spool holder
Specifications
Extruder Number: single extruder
Max Extruder Temperature: 338 – 527°F (170 – 275°C)
Layer Resolution: 100 to 300 microns
Extruder Nozzle Diameter: 0.4mm
Printing Speed: n/a
Build Plate: non-heated print bed
Build Area: 4.7 x 5.5 x 5.1 inches
Filament Diameter: 1.75mm
Supported Filaments: PLA
Connectivity: Micro SD Card, USB cable
Weight: 8.8 pounds
Dimension: 13.4 x 12.2 x 12.6 inches
Design
With a black body and a completely open-frame design, the Startt 3D printer doesn't provide much in terms of aesthetics. All the parts are exposed and easily accessible, but they're well organized, and hanging wire cables are greatly minimized, giving the whole unit a neat look.
It isn't bulky either. It has a small footprint, measuring 13.4 x 12.2 x 12.6 inches, and it weighs just 8.8 pounds. It can fit on top of most desks, and you can carry and move it easily to another place whenever needed. The frame is a strong metal and holds the printer very well. The build plate is relatively sturdy too, but not durable.
Some of the printer parts are 3D printed parts, and they are not of good quality either. They are extremely rough with so much ringing and corner lift that can cause the Z-axis nuts not to mount straight – they sit at an angle, and that can cause severe binding. The extruder is a Bowden style extruder, and it's of good quality. It's strong and mostly aluminum.
Print Quality and Printing Speed
The Startt has only one extruder with a nozzle of 0.4mm in diameter. It can print layer thicknesses of 100 to 300 microns and reach 338 – 527°F (170 – 275°C), which is hot enough to print PLA and ABS filament.
You can also print with nozzles of different diameters as the unit allows you to interchange the standard nozzle (0.4mm) with either the 0.3mm or 0.5mm nozzles. This way, you get some control over the print results as you can tinker with the resolution to achieve the precision or level of detail you want.
With regards to the print quality, it's not any way close to the high-end/expensive machines. Nonetheless, when you consider its price, the quality of its prints is really impressive. You can print many things with the printer, both complex and simple designs, and they would be replicated pretty well.
Details are not always fine or smooth, though as most of the prints tend to have ringing effects all over. The speed is also not impressive. It takes longer than other similar models when using the highest layer resolution or when printing complex objects.
The Build Area
Unlike Startt 3D printer, the other printers that are in the same price range are completely disappointing when it comes to the build volume. Most are only able to print small objects, hence offering limited flexibility of choosing or printing the desired 3D design. Startt 3D printer, on the other hand, offers a considerate build volume.
It's specified build volume is 4.7 x 5.5 x 5.1 inches, which is larger than what other similar printers offer. However, the actual printable volume is about 4.3 x 5.1 x 4.1 inches. The extruder nozzle is off the board by around 5 inches on the x-axis and it doesn't reach 5.1 inches on the y-axis either – it starts to scrape along the control panel above 5.1 inches, clicking (and holding) buttons or pinching the display.
So, you are left with a slightly less build volume than advertised, which is around 4.3 x 5.1 x 4.1 inches, which is still large compared to others and sufficient for experimenting with various kinds of 3D designs as you are not limited to tiny objects. It's enough to print useful, decent-sized objects.
The print bed is unheated though, and with the open-frame design, you can't print with ABS or other advanced filaments sensitive to temperature changes. It prints PLA very well, and the prints adhere to the print bed and come off easily.
Supported Filaments
The Startt 3D printer supports only PLA since the bed is not heated and it has an open-frame design. The extruder can print ABS as it reaches a high temperature of up to 527°F (275°C). However, the prints warp and crack on the bed since it can't sustain the high temperature. It does a good job printing with PLA, but you won't use any other material other than it.
Usability and Connectivity
Using the printer is simple, but the interface of the built-in controller isn't really user friendly. It has button controls and a screen that's hard to read at first. It takes some time to figure it out, but you can optimize most settings using the button controls.
You are also limited to a USB cable and SD card when it comes to connectivity. You can connect the printer with a PC using a USB cable and initiate prints right from the PC or transfer the design to the SD card and print directly from it untethered.
Software Compatibility
The printer is open source, so you can work with almost any common slicing software to modify the settings of your 3D models. It supports most of the open-source software, including Cura, Slic3r, and Simplify 3D. It's equally compatible with all the common operating systems; Windows, Mac, and Linux. It supports .stl and .obj file types.
Assembly
The Startt doesn't come pre-assembled. You have to assemble everything yourself, which is not easy and can take up to 5 hours or more to complete. It's a long, tedious process, but you get to learn the complete design of a 3D printer which could definitely add extra knowledge to your overall expertise level once you are done assembling it.
You take care of everything on your own from scratch, including levelling the bed which you have to do manually. It's a step that can pose a challenge, especially if you're new to 3D printing.
The assembly instructions are included in the MicroSD card that comes with the printer. The steps are clearly mentioned and easy to follow. You are provided with all the tools you need to set it up and start, including 10 free 3D printable designs. It only lacks a filament spool, which you'll have to get separately.
The power supply (12v 5A) it comes with also seems inadequate as it gets very hot such that it causes the voltage to drop in the fan RPM.
Other notable downsides are lots of shipping problems and complain about poor customer service. Many reported waiting for months to get their order, while some claimed not even to receive it after constant assurance from the company – they ultimately fail to respond when contacted.