Cetus 3D Printer Review
The Cetus3D printer is manufactured by Cetus3D, a company based in China and a subsidiary of Tiertime Technology LTD, which is based in Beijing. It's a simple and affordable printer that sports a minimalist design. It offers decent print quality and interesting features like a variation of nozzles, linear rails, and automatic support generation. It also works with a wide range of different printing materials despite having a non-heated bed.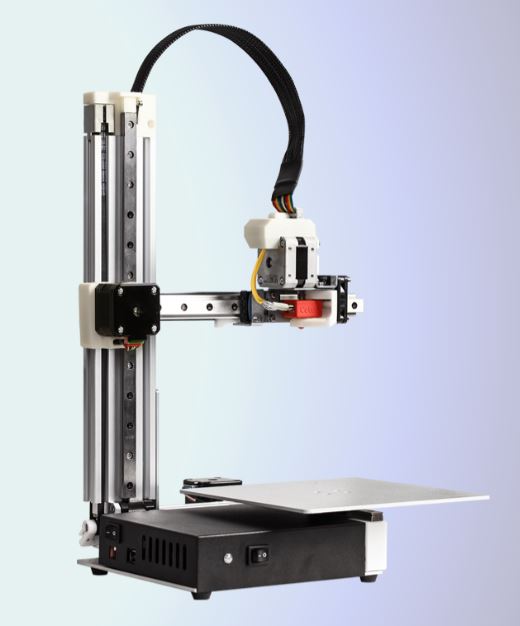 Pros
Print quality is great for small objects
Has a moderate size build volume
Supports a variety of printing materials
Reasonably easy to assemble and operate
Stable and durable frame construction
It comes with a 1-year warranty
Cons
Larger prints tend to warp and have blemishes
The print bed coating leaves small indentations in prints
Leveling the bed can be tricky for some
Specifications
Extruder Number: single extruder
Max Extruder Temperature: 500°F (260°C)
Layer Resolution: 350, 300, 250, 200, 100, 70, 50 microns
Extruder Nozzle Diameter: 0.2mm, 0.4mm, 0.6mm (interchangeable)
Printing Speed: 20 – 150mm/s
Build Plate: non-heated 3mm aluminum plate
Build Area: 7 x 7 x 7 inches
Filament Diameter: 1.75mm
Supported Filaments: PLA, PETG, TPU, PVA, TPE, PET
Connectivity: USB, Wi-Fi
Weight: 12.12 pounds
Dimension: 13 x 12.9 x 9.4 inches
Design
The Cetus has a pretty simple design. There's nothing sleek or striking about it's look. However, the overall build quality is great. It's a rigid machine consisting of a thick aluminum frame and stainless steel components like the linear rails and the brackets that hold the frame together. The build plate is also a 3mm aluminum plate. The whole unit is generally strong and durable.
It has a small footprint (13 x 12.9 x 9.4 inches). It can fit on a desk without taking up much space. It's also very light, which, plus its small size makes it easy to carry and move around.
Its open-frame design allows you to see the whole printing process, but it exposes the hot extruder, which is not only unsafe but also puts the vital components of the printer as well as the printed model at risk of getting damaged by external factors.
The supported filament diameter is 1.75mm and the unit has an open-source design, so you can use third parties cartridges without any issues although the Tiertime offers its own Cetus-optimized PLA filament in 700g spools. They come in a wide range of colors and have low-warp and low-odor properties.
Printing
The printer utilizes a single-extruder system and comes with three interchangeable nozzles with diameters of 0.6mm, 0.4mm, and 0.2mm. They can reach a maximum temperature of 500°F (260°C) and offer various layer resolutions, including 350, 300, 250, 200, 100, 70, and 50 microns.
Each nozzle has its preset profile and dictates how much filament is extruded to print. You can easily adjust the layer height to your preference or to achieve specific results.
The 0.2mm nozzle provides fine details and accurate prints while the 0.6mm delivers less detail, but it's fast and ideal for structural parts. The 0.44mm nozzle is the default hot end that comes pre-installed on the extruder, and it's meant for general purpose printing.
This combination of different nozzles and resolutions makes the Cetus 3D printer versatile enough to work with a wide variety of filaments. Moreover, the unit uses a direct drive extruder, which works better with flexible filament (TPU) than Bowden style extruders. Switching between the nozzles is easy and takes only a few minutes.
The Cetus 3D printer is also equipped with stainless steel linear rails on each axis as the basic motion system in which the extruder and print bed move. Linear rails tend to facilitate fast and fluid motion, which results in accurate movement and precise printing.
The unit equally features a timing belt inside the extruder, which prevents it from dropping straight down. Belts that don't use timing can drop straight down and probably ruin the model being printed as well as the print bed.
Print Quality and Printing Speed
Many users reported that the overall print quality is good for small objects. They mostly come out clean and with lots of detail. There's little to no stringing, and contours are smooth even with more complex models.
Larger prints are prone to warping and have occasional blemishes, especially if they are complex designs like clock gear. Stringing is also a problem when making prints with thinner layer heights. Small plastic strings are left behind on the model, which ruins its overall look.
The printing speed is moderate, ranging from 20 to 150mm/sec. The 0.6mm nozzle prints faster than the rest while the 0.2mm nozzle takes the longest. It can take up to 18 hours to complete an object if it's a complex design and you want fine detail as well as a dense fill of the print.
The Build Area
The print bed is modest, measuring 7 x 7 x 7 inches, which is almost the same size as the printer itself – you can print objects that are as big as it is. It's a 3mm aluminum plate attached directly onto the linear rail (Y-axis) to ensure that it remains level throughout as it moves back and forth parallel to the X-axis.
It's not a heated bed, but its surface is coated with a textured, adhesive layer to improve adhesion. PLA, TPU, PETG, and similar materials stick well onto the surface. The adhesive holds them securely in place as the printer works away. The adhesive itself is durable and has good tolerance for nozzle height.
It does allow the prints to come off easily. However, you have to use a raft most of the time since the texture of the coating isn't completely smooth. It can leave small inconsistencies or indentations in the base of prints.
Some mentioned too that the supports for prints with thin layers are sometimes flimsy. They can blend and mesh together with the prints making them difficult to remove, while thicker layers tend to have thicker layers that don't break away easily or cleanly.
Supported Filaments
The Cetus 3D supports PLA primarily, but it can also print other filament materials like PET, TPU, PETG, PET, TPE, and PVA. It prints most of them pretty well. You have to upgrade the print bed with a heated bed to print filaments with more extensive temperature settings like ABS, PP, PC, and fiber/metal composite materials.
Usability and Connectivity
The Cetus doesn't come with any printer controls built into it – you have to connect it to a smartphone or personal computer via Wi-Fi or USB cable to operate it.
The operation software is Tiertime's proprietary UP Studio software, while the control application for smartphones is the UP Studio iOS app. The software is well designed and has a simple interface. It's easy to understand and use.
It also offers a fair number of standard slicer features including 3D modeling of the build, scaling, rotation, 2D to 3D lithophane creation, print initialization, supports, infill, error detection, quality, draft, layer thickness, etc. Moreover, it supports a wide range of file types like STL, OBJ, UP3, Gcode, 3MF, PLY, OFF, JPG, 3DS, PMG, and BMP.
Another notable feature is the custom material profile, which allows you to adjust the system to 3rd party filaments – you can't use a 3rd party filament directly when you buy it.
The software has a support editor feature as well and it can automatically generate supports for prints with overhangs. You can customize and fine-tune the supports, including modifying their angles, areas and deleting specific supports. The smartphone app equally has a simple interface and provides the same functionality as the software.
Software Compatibility
The printer works with Tiertime's proprietary UP Studio software, available in Windows, Mac, and iOS versions. It can also work with 3rd party slicing software like Slic3r, Simplify3D, and Cura.
However, the UP Studio software offers other additional features like Fix Errors, which automatically corrects broken models. There's also a Blackout Recovery feature that resumes printing should a power outage occur.
The best part is that you can also use the cloud-based smartphone app to run the printer. You get real-time updates about the printer's status as well as the print progress right from the phone while you're on the go.
Assembly
The set up was relatively easy for most users. It's not an almost fully pre-assembled model, but the setup process is far from assembling kit printers that are a headache to assemble. It requires just tightening about 5 screws to secure the extruder head and the build plate in place, a process that takes not more than 10 minutes to complete.
A guide is provided that shows the steps (with photos) on how to assemble the whole printer and download the operation program.
The package comes with tools required to complete the setup, including items for making a spool holder for the provided plastic PLA filament and a socket-type wrench meant for changing the nozzle, which is a simple process.
Once complete, you just power it on, connect over USB or WiFi, and calibrate the machine. You have to calibrate the build plate manually, though, using the 9-point matrix system. It involves using a piece of paper to divide the plate into 9 separate regions to correct unevenness. It may be a bit challenging for a beginner, but it helps ensure the bed levels well.
When you level the bed once, it stays in place for long since the machine is rigid. It remains steady when printing. You only get to re-level it again when you change out the nozzle.
The smartphone app even has a function (perpendicularity calibration) that allows you to check and also calibrate the vertical parts' angle to ensure they remain perpendicular along the Z-axis. The other notable function it offers is dimensional calibration – it enables you to adjust print/object dimensions in all three directions (X, Y, and Z).
The machine runs quietly for the better part. There's no mechanical churning or high-pitched whines associated with other printers, but the fan can be loud.
Support
Tiertime provides troubleshooting, guides, and other resources on its website, and although they are helpful, they are still limited in terms of detail. The support team is accessible only via email, but are really responsive and helpful once contacted.
What's more appealing about the Cetus is that the company is committed to improving the model. Several enhancements they currently offer to expand the printer's capabilities include a V2 hot end meant for abrasive metal-based materials, an auto-calibration probe, and a heated build plate.
Other upgrades include a 4.3-inch color touchscreen for onboard control and a Tinyfab CPU to transform the Cetus into a fully open-source printer that's compatible with RepRap-based software such as Cura and Slic3r. You can install all these add-ons to existing models of the Cetus printer by fitting a modular extension board or replacing the individual parts directly.
Cetus3D itself is a reputable business and has been in the industry since 2003. Their staff is, particularly committed to the community and they usually use customer feedback to make constant improvements. They are equally active on the support forums as well as on their Facebook group, and other platforms.