Nomad 883 Pro CNC Review

The Nomad 883 Pro is a CNC Milling machine built by Carbide3D which is an American company based in Torrance, California. The machine was released in 2014 and it's one of the few fully enclosed desktop CNC machines on the market. Apart from being enclosed, it has a very cool design and its overall construction is very rigid.

What makes it more appealing though is the fact that it's able to cut a wide variety of materials and it includes some useful features like automatic tool length calibration. Its cutting performance is equally decent as it's able to deliver fine detail. The area it lacks is the working area which is small and the spindle speed is also pretty slow compared to similar models.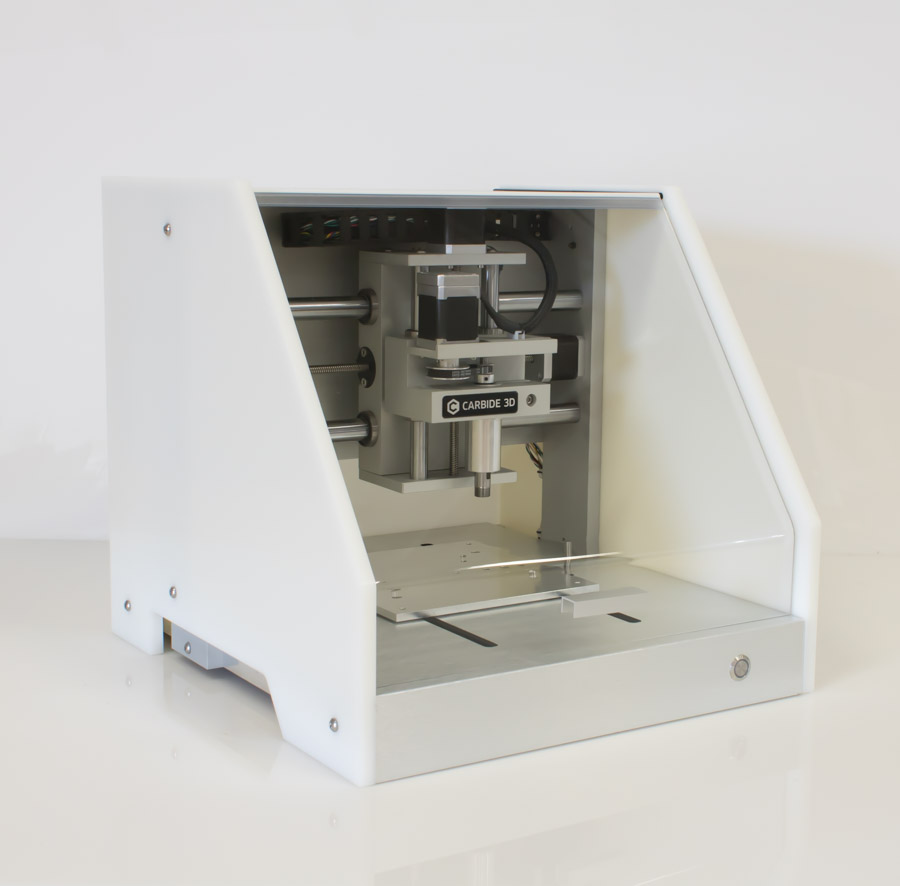 Pros
The machine has a fully enclosed design
The quality of the cuts is decent
It can cut different types of materials
Tool length calibration is done automatically
It's easy to assemble and use
Cons
It has a small working area
The speed of the spindle is slow
It can only be controlled from a computer
Specifications
Spindle Collet: ER-11
Spindle Power: 70 watt
Cutter Diameter: ¼ inch
Programmable Resolution: 0.0005 inches
Mechanical Accuracy: 0.005 inches/ft
Mechanical Repeatability: 0.0015 inches
Maximum Spindle Speed: 10,000 RPM
Working Area: 8 x 8 x 3 inches
Connectivity: USB Cable
Compatible Software: MeshCAM, Carbide Create, Carbide Motion
Overall Size: 457 x 419 x 533mm
Weight: 60 pounds (27.2 kgs)
Design
The Nomad 883 Pro is a desktop CNC machine with a small footprint of 20 x 20 inches. It's about the size of a desktop 3D printer or inkjet printer which means it can easily fit on almost any standard desktop or benchtop.
It comes fully enclosed in either Bamboo or HDPE which helps contain dust and mess resulting from the bits of materials produced during the milling process. It keeps your work area clean which makes the unit ideal for use in any environment without having to worry about causing a mess.
Both the Bamboo and HDPE finishing (side panels), plus the overall cabinet design of the machines is quite attractive. They would both fit nicely in any workshop or with any décor at home, school or even office. There are no hanging cables and all the electronics have been embedded at the back of the unit, so besides the attractive design, it does look neat.
The fact that the whole unit is enclosed means that most of the noise is blocked and retained inside the enclosure – it doesn't cause much noise disturbance. You could carry on conversion as it's running. The enclosure also offers some level of protection against bits of material that may fly out during the milling.
The front opening part of the cabinet/enclosure is made of high-impact acrylic which lets you have an uninterrupted view of the ongoing progress and also easy access to the working area. However, the hinge seems a bit flimsy and may not last long. The top panel is also a thin sheet that's likely to flex should you put any weight on it.
All the other main parts of the machine, including the frame, linear bearings, lead screws and the spindle are made of metal. They are very sturdy and durable, capable of handling frequent heavy usage. All the external parts have also been bead blasted and powder coated to ensure they are well-protected.
The frame is thick aluminum and keeps the whole unit stable when it's working. For the X and Y axis, Carbide3D has utilized 20mm linear bearings which are over 50% stiffer compared to the 16mm bearing used on their previous models. The Z-axis is equally upgraded to 16mm from 12mm, so all the axes (X, Y, and Z) are stiffer and well-matched.
The Nomad 883 Pro comes with a custom made spindle too which is specifically designed for desktop machining. It's a very durable spindle and runs quietly. The company has reworked both the spindle electronics and firmware so as to make its movement smoother and more reliable. Its ER-11 collet is able to hold 1/8"- shank tools.
Motion in each of the three axes (X, Y and Z) is independently controlled by a fast-pitch lead screw with sturdy steel bearings to ensure smooth, high-speed movement.
The whole unit is a little heavy, weighing about 60 pounds – you'll need some help to lift it or move it. There were several complaints that the aluminum handle is not deburred properly. It may have some sharp burrs that could cut the fingers when trying to lift the machine.
Performance and Speed
The custom-made spindle of the Nomad 889 Pro utilizes 70 watts of power and offers an accuracy of 0.005 inches with a resolution of 0.0005 inches and repeatability of 0.0015 inches. The machine utilizes standard endmills with a 1/8-inch shank.
It's accurate enough to cut inlays as well as pockets that fit together perfectly. It's equally capable of delivering fine detail when it comes to engraving jobs as it has low run out.
The fact that its X and Y axis lead screws have an anti-backlash nut further ensures accuracy over time and enables it to cut materials like metals very well. Small parts from soft metals like brass and aluminum up to 0.25 inches thick cut pretty well on the machine.
Besides the simple 2D cuts, this Carbide3D CNC model can handle complex, flowing organic shapes without many issues. It's equally precise enough to handle PCBs, even with SMT components.
Many reported that the Z-axis zeroing is spot-on – the machine is able to cut through a workpiece completely without even touching the spoil board.
Some did experience failed cuts though due to the motor stalling like when cutting some 606 aluminum without lubricant/coolant at 7500 RPM, 6 inch/min plunge, 12-inch/min feed, and using 1/8 inch 2 flute carbide AITin coated end mill.
Another attempt done at the same settings but at 1.5-inch/min plunge resulted in a complete cut although with a rough surface finish.
The third cut which was done at 9500 RPM, 1 inch/min plunge, 10 inches/min feed and using uncoated carbide was quite successful – there were only minor surface defects which might have been caused by two nicks at the point where the plunges happen and probably also by bad chip evacuation.
With regards to spindle speed, it's limited to just 10, 000 RPM which is a bit slow compared to other competing CN machines like the Bantam Tools Pro (supports up to 26, 000 RPM). The speed of both the spindle and the feed of this Nomad CNC will also have a direct impact on the quality of your final cuts.
For instance, when cutting aluminum, if the spindle speed is too slow or if you cut too fast, the endmill is likely to make a bigger bite with every pass, meaning you will end up with a rougher surface. This also puts more load on the end mill and can break it prematurely.
If, on the other hand, you run the spindle fast or cut too slowly, there will be excess friction hence heat will build up and might cause the aluminum to melt, or if you use wood, it can cause it to burn.
The Working Area
The Nomad 883 Pro offers a work area of 8 x 8 x 3 inches which is decent enough to accommodate works pieces with irregular shapes. However, considering that it's a desktop CNC machine the table size is quite limiting if you need to cut much larger projects.
The rigid aluminum table is flat, smooth and drilled to accommodate a replaceable MDF (medium-density fiberboard) work surface.
Fixturing materials on the Nomad 883 is pretty easy as several fixture options/accessories built to connect to the machine and hold different types of materials firmly in place during the milling process are available.
The machine comes with a roll of double-sided tape (carpet tape) which provides a simple yet effective way of holding down materials, even after they are cut – it holds onto all the parts of the material hence nothing can fly off.
The other add-on provided by the company for holding materials in different ways includes threaded-table and clamps. The table features a grid of threaded holes that allows you to screw down your workpiece or attach the fixturing clamps.
You do lose some workspace when using the clamps though and they can also get in the way of a bit while it's cutting since they tend to overlap the top of a material – the bit can hit the clamps while cutting which can cause it to break, damage the clamps or ruin the job.
Apart from clamps, there's also a low-profile vice that allows you to hold blocks or pieces that might not have a flat bottom surface. A flip jug is another fixture option that's provided for this particular model and it allows you to create perfectly aligned two-sided cuts.
Materials
You can use a wide range of materials and standard cutting tools/endmills with this Nomad model. You can work with plastics like acrylic, polycarbonate, Delrin, HDPE, and more. Wood is no problem either. It can work with any kind of wood including, pine, maple, oak and even the more exotic species.
The unit is as well powerful enough to cut soft metals like aluminum, copper and bronze (up to about 0.25 inches or Mohs hardness rating of 4). Aluminum, in particular, is the most difficult to cut with this machine – it requires correct feeds and speeds, plus plenty of experience to work with it successfully. The other materials you can cut include wax, foam and FR-1 circuit board.
Things you'll not be able to cut are steel, titanium, stone, ceramic, carbon fiber (fiberglass), and FR-4 circuit board. Steel may be cut with the help of a coolant, but it's still difficult because the spindle motor doesn't really have enough horsepower to handle it.
Usability and Software Compatibility
The Nomad 883 comes with three different types of CNC's software to allow you to complete your projects. The first is the Carbide Motion which is the machine's controller. It's easy to use and allows you to control the unit right from your computer.
With the Carbide Motion, you can perform several functions like sending GCODE jobs, set the spindle speed and other parameters, jog and home the cutter and move objects to your desired position. However, it lacks all the nitty-gritty options such as selecting the serial port although the auto-connect works just fine. There's no log or console either but you wouldn't need it.
The second software is Carbide Create which is a simple 2D CAD/CAM design suite that allows you to draw your 2D objects/parts from scratch with basic shapes. You can as well import other CAD files (like a DXF file) you've already created in other drawing programs and use them to create the toolpaths.
The program has a built-in library of materials and mills which allows it to handle all the speed and feed calculations for your particular project. It even features the functionality for V-carving.
It provides beginners with an easier entry point to CNC and can help tackle usual headaches with projects such as PCBs. The software is downloaded and run right from your computer – it's no cloud software that can be unavailable and insecure.
The downside is that Carbide Create is only good if you're planning to do just simple designs using soft materials – you'll quickly outgrow its capabilities if you move to more difficult projects.
For example, the software will have the spindle plunge all the way down into the material which is fine for soft materials such as plastic or wood. However, for metal and other hard materials it's best to make helical cuts since endmills are designed to make cuts with their sides, instead of their bottom like a drill – several users reported breaking a few bits just because of this.
The final software is MeshCAM and this is a great piece of 3D CAM software that can help you machine your existing CAD files – it offers plenty of settings to tweak designs. One really helpful feature it offers is the Automated Toolpath Generation Wizard, which saves you hours of fretting over settings – it can generate a 3D tool path from any STL file.
The MeshCAM can equally allow you to bypass the Carbide Motion software and send the GCODE straight to the machine. The downside is that the GCODE it generates is only compatible with the Nomad 883 model.
The unit does work with most of the common CAM programs too. The Carbide Motion can read GCODE from other CAM programs, so you are not limited to just Carbide's CAM software.
All three software can run on Windows or Mac operating systems. They aren't compatible with the Linux operating system. The machine connects to the computer only through the USB port. There's no Wi-Fi connection and it doesn't run off an SD card.
Assembly
Setting up the unit doesn't present any challenge because it comes almost fully assembled. The process can take about 15 minutes. The package includes the three software, cutters and material to get you started.
Measuring/calibrating the tool length is usually a difficult process on a desktop CNC machine, but Carbide3D has made it easy for the Nomad 883 model by incorporating an automatic tool length measuring program.
The program measures the tool length before every cutting process and then automatically makes the appropriate adjustments. It provides an easy way of ensuring accurate tool calibration and allows the machine to accommodate varying tool lengths – it precisely resets "zero" with each tool change.
Maintaining and servicing the machine is equally simple. The panelling comes off easily without disassembling the whole frame. Moreover, the spindle motor is disconnected from the cutter shaft which makes replacing parts easier.
The circuit is two custom PCBs, located in the rear part of the machine. The back panel has many screws to remove, but all the panels do come off easily. The frame remains together even after removing all the panels and you can use the machine even with the panels removed.
All the electronics are located inside a metal case that protects them from debris. The programming headers are all accessible while all the wires are color-coded and use keyed connectors, making the machine very easy to repair in case the electronics fail.
The only complaint is that the power connector is not the locking type like on the Ultimaker2 – if you trip on the cable it will disconnect. The fact that the board doesn't read code from an SD card is another key downside because the Carbide Motion software can crash during a long cut.
That said, Carbide3D does offer great customer service and they do respond to customer queries fast. There are also several community forums where you can access information about the Nomad 883 Pro model and even get solutions from other users for some of the common problems you might face.