Flashforge Finder 3D Printer Review
The Flashforge Finder is an entry-level printer that has a simple, neat design. It's much basic in terms of functionality, but it does have a couple of extra useful features like an assisted leveling system and slide-in build plate. It has a single extruder that's effective and delivers quality prints most of the time. Using the unit is straightforward, and it comes almost fully pre-assembled.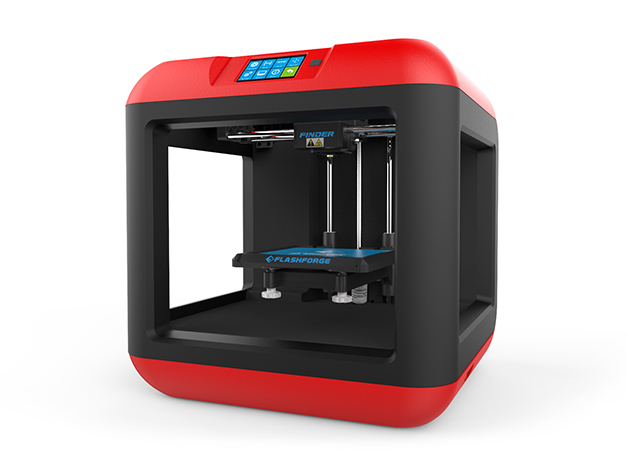 Pros
It can produce quality and well-detailed prints
It's safe and easy to use
It has a sturdy, plastic alloy construction
It's relatively quiet when working
Cons
It has a small non-heated build area
Supports only PLA filament
You have to level the print bed manually
Support structures are challenging to get off
It has a short warranty of 90-days
It tends to break down within a year
It's difficult to get its parts
Specifications
Extruder Number: single extruder
Max Extruder Temperature: 464°F (240°C)
Layer Resolution: 100 – 400 microns
Extruder Nozzle Diameter: 0.4mm
Printing Speed: 40 and 200 microns
Build Area: 5.5 x 5.5 x 5.5 inches
Filament Diameter: 1.75mm
Supported Filaments: PLA
Connectivity: USB flash drive, USB Cable, Wi-Fi
Weight: 44 pounds
Dimension: 16.5 x 16.5 x 16.5 inches
Design
The Finder spots a cuboid design with smooth edges and contours. It has a sleek color scheme featuring a black central shell sandwiched between red casings on the top and bottom, which also go all the way to the sides of the back panel. It's a striking look that most found quite appealing.
The unit is opened on all sides except the back panel, so you can see and monitor the object that's being printed. A series of blue LED lights on the roof and back part of the printing chamber illuminate the build area, which helps keep the object visible even in the dark.
Although the workspace is exposed, the innards are safely concealed within the frame, which gives the printer a neat overall look. The mechanical parts and cabling are all hidden, and even the extruder is enclosed in a casing, making it hard to get burnt when it's touched accidentally.
The movement of the extruder is along the X and Y axes, and it runs on a dual rod setup. The bed moves along the Z-axis on a threaded rod and two other smooth pilot rods. There's nothing new here, but it's still a reliable configuration and ensures consistency in printing.
The plastic alloy that makes up the body is very sturdy and durable. The printer doesn't move or shake while working – you get stable prints every time. However, the unit is a little heavy (it weighs 44 pounds), but someone with strong arms can move it easily. It has a small footprint, measuring 16.5 x 16.5 x 16.5 inches. It can fit on a compact desktop.
Print Quality and Printing Speed
The Finder is a single-extruder system. The extruder has a 0.4mm nozzle that provides a layer resolution range of 100 to 400 microns, which is a decent range that allows you to print using several different layer thicknesses.
The nozzle can as well reach a maximum temperature of 464°F (240°C). It does its job well. A vast majority of standard prints come out very nice, with all the fine details handled well.
The layer lines are clearly visible at a lower resolution, but as you move higher, they start to fade such that you can get prints with smooth surfaces. There were, however, several noticeable structural issues, such as occasional blemishes and a few layering discrepancies.
The biggest issue reported was stringing. Sometimes the prints come out with many thread-like strings between parts/pieces, especially when using supports. The system is too liberal with them. It uses too much, which ends up messing the entire print or some portion of it.
The supports themselves are also difficult to get off entirely without gauging the prints. They still leave a rough residue behind even if you manage to remove them successfully.
Although the prints don't always come out smoothly, the printing speed is fast (15 to 30 min) when creating small objects at moderate to lower resolutions. It can range between 40 to 200mm/sec. You get better results when using the highest layer resolution, but it takes so much time (5 to 10 hours ) to create a single print, especially if it's a complex design.
The Build Area
The printing bed is relatively modest, which substantially limits the size of prints you can create. The largest object you can make is about 5.5 x 5.5 x 5.5 inches. If you have bigger objects to be printed, you have to slice them up into multiple segments, print the parts separately, and then join them with glue or weld them.
The print bed is not heated either, which works fine for PLA filament as they don't require heated build plates – most of the prints adhere very well to the build plate. ABS filament doesn't stick to the bed.
Designs that feature a large base also require a blue tape cover, a glue stick, or any other adhesive to help them stick to the print bed; otherwise, you are likely to get warping, curling, separation, or misprints.
The bed does slide in and out easily, making it simple to access and remove the prints from the build area when they're finished.
Supported Filaments
The Finder only supports PLA filaments that have a standard diameter of 1.75mm. It's a huge negative if you're an expert and want to experiment with different materials like ABS or TPU. If you're a beginner, then you'll find it simple to print with, since the Finder is specially designed to work with it.
The PLA support is third-party, meaning you can get it directly from Flashforge or purchase wholesale from an alternative vendor to save a few dollars.
The maximum spool capacity is only 0.6 kilograms, so it doesn't hold plenty of filament which is a major downside considering that most brands like Monoprice and Cube 3D use 1Kg spools. You can still print but you'll have to get a standalone spool holder as the slot for the spool in the back of the printer is small – it can only accommodate the 0.6Kg spools.
The other downside is that using the standalone spool holder sets off the filament-run-out detection since it only works when the filament is inside the printer's spool slot. You can't get a notification when the filament is about to get finished.
Usability and Connectivity
The unit comes with a 3.5-inch touchscreen that's clear and simple to use. It's very responsive and has large icons that are easy to read and operate.
You can access and adjust most of the important controls and settings, including homing, pre-heating the extruder, filament loading/unloading, and triggering prints. You can also preview the 3D model files and monitor the nozzles' temperature and the print progression. The screen can as well be set up in 16 languages.
There's no SD card slot, but you can connect a PC to the printer via a USB cable or load the model files directly to the printer using a USB flash drive.
There's Wi-Fi connectivity as well meaning you can easily manage the printer over your local network. The WLAN connection works great, plus the unit has a 4GB internal memory to store the print files. You can run it completely untethered once you send over the print files via USB or Wi-Fi.
Software Compatibility
Flashforge utilizes its slicing software, which is known as FlashPrint. It's a simple slicing software with a user-friendly interface that offers a small learning curve, particularly for beginners.
It has no advanced features, and it doesn't offer much customizability, but there are a bunch of nice settings that allow for some level of tinkering with the 3D models before printing. The options provided include scaling, rotating, resolution, infill amount, shell thickness, cut, preset profiles, 2D to 3D conversion, and skirt/raft/brim.
You can as well create smart supports and provide treelike or linear supports. They are settings that are generally suited for beginners and doing basic tinkering. Moreover, the printer is "Polar Cloud Enabled", thereby it supports Flashforge's remote printing and monitoring features.
The Finder is equally compatible with other third-party slicer like Sli3er. You can also use software such as 3DMax to generate OBJ and STL files which you can then port over to FlashPrint. The printer can work with Mac OS X, Linux, and Windows (Windows XP, Vista, 7, 8, and 10).
Assembly
The unit comes almost fully assembled but there's still little setting up to do like leveling the print bed. Instead of an auto bed leveling function, the system has an assisted leveling feature (a retractable switch), to ensure a more precise and easier calibration.
However, the process is still manual, and the retractable switch isn't very reliable. Some users reported having trouble getting the bed well leveled, while others mentioned that the switch tends to collide with the edge of the print bed when it flips down, eventually causing it to snap off. The guide provided is not helpful either because the instructions are not clear.
Apart from leveling the print bed, you have to load the filament into the spool and insert it inside the printer. It's an easy task, even loading the filament into the extruder.
The challenging part is disassembling and reassembling the unit – this is due to the enclosed design and the tight space between components. It takes a lot of effort, considering that some of the plastic parts are fused, and you have to pry them apart.
The nozzle is also connected so tight that it can be difficult to get it off, and you have to disassemble the whole unit in case you need to change it. There is no apparent input for cables that look alike either – you can easily connect things into the wrong plug.
The main critical issue we noted is that the unit doesn't last long. Many complained that it starts to break down within a year of use. The nozzle jams occasionally and fails to extrude the filament completely, or the machine begins turning off randomly, regardless of activity (,i.e. during warm-up, during print, etc.).
Getting replacement parts is difficult too – you can order from the company, but most of the time when you contact them they say they don't have Finder parts in stock. You have to wait for 3 to 6 weeks for them to ship. You can outsource the parts elsewhere, which is equally challenging because there are hardly any details about the parts like what nozzle threading it uses.
Nonetheless, the Flashforge support team is quite responsive and helpful, plus you can access tons of information from the company's website including walkthrough videos, general learning material, and troubleshooting guides.
The other good thing is that the printer operates quietly. It runs at 50db or below; hence it doesn't cause much disturbance – you can barely hear it when in another room.