Da Vinci Jr 3D Printer Review

The Da Vinci Jr 3D printer is manufactured by a Chinese company known as XYZprinting which is based in Taiwan. It's currently among the most affordable 3D printers in the market and it's design and performance seems geared towards beginners, schools and children. It's an entry-level printer that's inexpensive and produces decent quality prints from simple designs.

It does offer several convenient features too like auto-feed filament system and auto calibration. It's far from perfect though since it's only compatible with the manufacturer's filament spools and it also has a small build area so you can't make large models.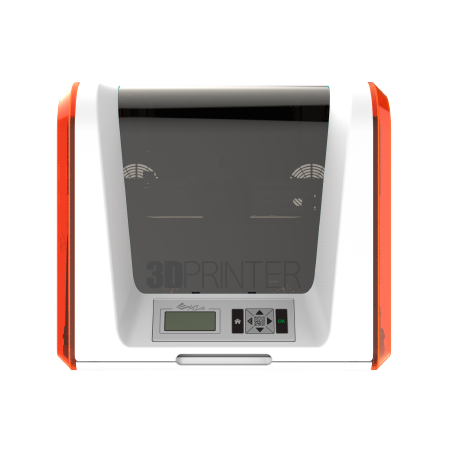 Pros
You get decent prints from simple designs
Safe to use around children due enclosed print area
It's easy to set up and fairly simple to use
Operates at a low noise level
Comes at an affordable price and has a 1-year warranty
Cons
It offers a small build area
Prints with only PLA filament
It only supports XYZ filaments
You can't use a third-party slicing software
The extruder tends to drift a lot on the right side
Specifications
Extruder Number: single extruder
Max Extruder Temperature:392°F (200°C)
Layer Resolution: 100-400microns
Extruder Nozzle Diameter: 0.4mm
Printing Speed: 100mm/s
Build Plate: Non-heated
Build Area:5.9 x5.9 x 5.9 inches
Filament Diameter: 1.75mm
Supported Filaments: PLA
Connectivity: USB, SD card, LCD screen
Weight: 26 pounds
Dimension: 16.5 x 15 x 17inches
Design
The Da Vinci Jr 3D printer has a sleek and modern look that is appealing to the eye. The white enclosure with a translucent centre and orange sides makes it quite attractive, plus the front outlines are angled and corners rounded, which adds to its overall sleek look.
The enclosed body protects users from touching the hot print head making it safe for kids to use. You can be able to observe the whole printing process through the clear front window but not from all the angles or as clear as you would with a complete open printer.
The extruder moves in the X and Z axis while the print bed moves front and back along the Y-axis. The printer seems to have a major flaw with the calibration of the x-axis arm. The weight of the extruder appears to cause it to droop slightly on the right side, which results in the extruder also dragging on the right and causing the filament to miss the left part of the print bed.
The Da Vinci Jr is quite big, measuring 16.5 x 15 x 17 inches and also quite heavy since it weighs 26 pounds. You may find moving it around a bit difficult if you have to do it often.
Print Quality and Printing Speed
The Da Vinci Jr printer extruder features a 0.4mm nozzle which provides 100-400 microns layer resolution and it can be heated up to 392°F (200°C).
The quality of the prints is not quite satisfactory at lower resolution levels (like a layer thickness of 0.4mm) due to the faster speed. You won't get smooth surfaces or clean round surfaces and corners. Plus, most of the prints show signs of ringing especially at corners.
It does work effectively in slow mode or high-resolution levels (layer thickness of 0.1mm). However, you are limited to only simple prints because if the model is complex or too detailed like the Eiffel Tower which may require lots of lattice work, then the quality won't be great. In most cases, you get failed prints or it may break while removing it.
Another problem is that the slicer software sometimes fails to do a z-hop when doing a non-print movement. This causes the hotend to occasionally bump along the layer a bit which may contribute to adhesion failures, especially on smaller parts. The extruder tends to clog a lot too. It can stop working instantly midway into the print.
The printer is also quite slow. It typically takes several hours to print a model. Depending on the complexity, some models can take over 8 hours to print.
The Build Area
The build area of the Da Vinci Jr. is 5.9 x 5.9 x 5.9 inches which is a bit smaller compared to other printers. The printer can only print models with a maximum height of 5.9 inches. However, you can even add multiple 3D objects for a single print job as long as they do not exceed the maximum 5.9-inch print volume.
The print bed is not heated and is non-removable. It comes with a set of three recyclable bed tapes, which cover the top platform to ensure the models being printed stick on the bed.
That's not the case though because the tape seems not effective enough as most prints don't usually stick and this is also partly caused by the distance between the print bed and the extruder.
Models that are tall, vertical structures with narrow bases fail too – they can tip over during printing or detach from the bed. Small objects also in some cases need rafts to print as desired
Removing the completed prints that successfully stuck to the bed is equally a hassle. You have to use some force to get them off the bed.
Supported Filaments
The Da Vinci Jr. Printer only supports PLA filament which you can only purchase from the company since the printer doesn't accept any third-party filament.
It utilizes filament fabrication cartridges which are safe as the filament are made from biodegradable plastic and are non-toxic. They are easy to use too since they automatically load, plus you get notified when filament runs out and need to be replaced.
The price of a spool weighing 600g is about $30 which is a little expensive and you can only experiment with the PLA filament and no other material. The choice of colors is also a bit limited.
Usability and Connectivity
The Da Vinci comes with a 2.6-inch LCD screen accompanied by six navigation buttons that allow you to control the machine. You can control several functions of the printers from the onboard controls such as setting the extruder to the required distance just above the print bed and loading/unloading the filament.
You can change the view of the model, move it around, rotate it within its axis and even position it using the buttons on the printer.
You can as well control the printer using the company's software which is known as the XYZware. If you have worked with proprietary software before, this one won't be a problem because the interface is well structured.
Once you import your model, it appears on a grid which gives you a complete 360 view of it. The software offers all the functions provided by the onboard control and much more including adjusting the settings of the print.
You can select the quality of the print, raft, automatic repair and also indicate whether any support structures should be printed. There's also a drop-down menu on the lower section that offers advanced settings and options for creating profiles.
As for connectivity, you can print from an SD card or connect the printer to a computer via a USB cable where you can initiate printing using the XYZware 3D printing software.
Incidentally, the power usage of this XYZ printer is about 75 watts which is surprisingly low compared to other printers. Your electric bill won't spike up by a large margin.
Software Compatibility
The Da Vinci Jr utilizes XYZmaker which is a 3D design software provided by the manufacturer. The software is usually included in the SD card that's provided with the printer but you can also download it from the manufacturer's website. It is only compatible with printers manufactured by XYZprinting and it only works with either Mac OS version 10.8 or Windows 7 and above.
The fact that you can't use any other slicing software is a disadvantage because you can't do much over the XYZmaker software, plus it only supports .stl and 3W (XYZ format) file formats. Moreover, when printing models in 3W format or exporting them, the status of the print is not displayed, it does so past the printing time.
Another downside is that the software sometimes tends to hang or respond slowly to commands. Navigating between windows, opening and closing windows and initiating commands can be a bit annoying because it's not smooth at all.
It can even take over a minute to respond, forcing you to repeat commands when you are not sure whether it has received them or it's processing them. This sometimes causes the program to crash. You have to restart it again so that it may work fine which can be time-consuming and frustrating.
Assembly
The Da Vinci Jr is quite easy to set up since it comes pre-assembled and almost ready to print. You simply just unpack it and perform some basic assembly like loading the filament and installing the XYZ software on the computer.
The unit includes an auto-feed system that takes the filament to the extruder. It's a convenient feature that ensures the filament is loaded properly before printing.
Calibration is automatic too including the Z-offset calibration, but as we mentioned earlier, the unit appears to have a major design flaw with its X-axis arm calibration since it tends to drift slightly more on the right side meaning you can ever calibrate it properly. Whatever Z-offset you set, the extruder will likely drag on the right side and miss the left part of the plate.
That said, the printer does run relatively quiet as compared to other printers due to the enclosed cover surrounding which cancels out the noise. You can actually comfortably print at night without worrying about noise disturbance.
There's customer support but it's not that reliable. They take a while to respond. Nonetheless, you can contact them via Skype, email them through their online support option or even call them in case of any issues. You may just have to wait a little while to get their response.